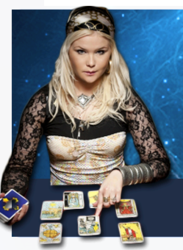 Wanted: Professional, Amateur and Hobbyist To Give Numerology Readings
(PRWEB) June 29, 2012
The new numerology online marketplace http://www.psychictarot.us has just announced they are accepting numerologists with the ability to list reading services, who want to make money and sell readings online using the web platform.
Hobbyists or professionals can open a free account with the site and begin offering services to begin or grow their number reading business.
The new site is user friendly and allows for the metaphysical community to share interesting services via social media and bookmarking sites. One is promptly notified as soon as a client expresses interest in their numerological offer. The offer providers account is credited as soon they satisfactorily deliver on the promised services.
Additionally, clients can choose numerological readings from various psychic professionals offering their services on the website for free.
The site allows customers to comment about service delivery, making it easy to track reputable readers.
Numerologists are also ranked in order of popularity and ratings, to ensure that quality is of top priority and to give the community a means of rewarding the top providers.
As numerology goes, according to these mystic experts, the fact that human birth and death are constant means that the time in between is logically sequential.
Therefore, according to the site, it is possible to explain and possibly predict someone's future by looking at significant numbers in their lives.
These numbers include:

Birthday numbers
Life path numbers
Personal year numbers
Lucky numbers
Maturity numbers
Signature numbers
Destiny numbers
According to the site, numerologists use these numbers to reveal the big picture concerning our personal lives. These mystics can tell of an individual's strengths, weaknesses, obstacles, successes, emotions and relationship status, simply by studying their number elements.
Such information is useful in revealing personal character, and determining ways to make improvements while avoiding peril.
Interpretation of such numbers can help someone to adjust their lives and make positive future decisions.
Numerological readings also provide insight into how people relate with others. Numerologists say that number harmony determines the direction of people's relationships. Opposing personal numbers are a source of conflict while harmonious numbers bond people together.
Therefore, these readings can help people to relate well with their partners, friends and colleagues, by establishing boundaries depending on number harmony.
About:
PsychicTarot.us is a unique platform that allows talented professionals to sell their services online, tapping into the global demand for readings. Providers are only limited by their own creativity and are encouraged to join the growing metaphysical community providing insightful, mystical, magical experiences at http://www.psychictarot.us/join-today