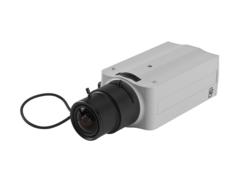 State-of-the-art components like Seawolf are contributing to make the UltraView XP4 camera series a high quality product range.
Mountain View, CA (PRWEB) June 25, 2012
Pixim Inc., a leading provider of imaging chips for enterprise security cameras, announced that Interlogix, a part of UTC Climate, Controls & Security, has introduced the UltraView XP4 camera series based on Seawolf, Pixim's popular image capture chip. The new XP4 cameras, which are available in both NTSC and PAL versions, provide "superior wide dynamic range and low light performance in one package." They can be mounted in a variety of positions including wall mount, ceiling mount, pendant mount, and flush mount.
Using Seawolf technology customized for Interlogix, the UltraView XP4 cameras are specified at an effective resolution of 690 HTVL in color and offer exceptional wide dynamic range. In addition, the new cameras offer True Day Night functionality via a removable IR switch mechanism that requires just 0.01 lux of illumination to produce usable images at a full 30 frames per second. Even lower light performance is achieved when slow shutter modes of up to 32x are enabled.
"With the UltraView XP4 camera series, we've made the decision-making process easy on the end customer. These cameras are pre-configured out of the box for most security applications," explains Thomas De Ceulaer, product marketing manager - video, fire & security products, UTC Climate, Controls & Security - Europe, Middle East and Africa (EMEA). "They deliver usable images in the most challenging high-contrast, low light, and mixed lighting conditions. In addition, they have the durability to work outdoors, while their compact size makes them ideal for indoor applications."
"State-of-the-art components like Seawolf are contributing to make the UltraView XP4 camera series a high quality product range," says John Monti, Pixim's vice president of marketing and business development. "This was proven when the UltraView XP4 series won the New Product Showcase award for Best in Surveillance Cameras SD at ISC West 2012. These versatile cameras can be used in every type of installation from shipping ports to banks to major retailers."
About Pixim
Pixim Inc. has been developing innovative imaging technology for enterprise security cameras for more than 12 years. With millions of cameras installed around the globe, Pixim's patented Digital Pixel System® technology empowers hundreds of thousands of pixels to act like individual, self-adjusting cameras. This all-digital system enables Pixim-powered cameras to efficiently capture high resolution video in natural color, regardless of lighting condition. Headquartered in Mountain View, California with offices in Florida, Virginia, Colorado, Ohio, Israel, UK, Korea, Japan, Hong Kong, and Taiwan, Pixim is able to meet the needs of its worldwide customer base. Visit http://www.pixim.com/cameras for a complete listing of Pixim-based cameras. For general information, visit http://www.pixim.com or call Pixim's headquarters in Mountain View, Calif., at (650) 605-1118.
To learn more, visit http://www.utcfssecurityproducts.eu
About Interlogix
Interlogix represents leading security and life safety solutions for both residential and commercial applications covering intrusion, video, transmission, fire and access. Offering some of the most-trusted product names in the industry, and backed by ongoing partner services and support, Interlogix helps customers secure and protect what matters most. Interlogix is a part of UTC Climate, Controls & Security, a unit of United Technologies Corp. More information about Interlogix can be found at http://www.interlogix.com.