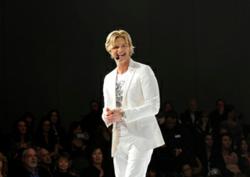 It is no surprise that prominent Hollywood celebrities like Britney Spears, Kate Hudson, Katherine Heigl and many others trust him to keep their hair looking fabulous
Las Vegas, Nevada (PRWEB) June 25, 2012
In 2011, Kim Vo and his multi-awarded salon team set the standard for beauty and good hair as the 2011 Top Salon Winner in the first annual Battle of the Strands. Now, as host of the 2012 battle, Kim is raising the bar for contenders across the nation who have been submitting their videos for this year's explosive competition.
To date, the 2012 Battle of the Strands has received interest from nationwide salons to demonstrate their creativity under pressure and outline why they should receive a personal invitation from Kim Vo to compete as one of the 10 finalists in 2012 Xtreme Beauty's Final Battle.
It is time to highlight the level of talent that stylists and makeup artists have, as the competition showcases their most creative expression, while presenting the most extreme hair, makeup, wardrobe & total production show the world has ever seen. "Kim Vo did just that. His winning performance in last year's Battle was a complete concept piece, featuring a mesmerizing Las Vegas style magic act, complete with models, music, and tricks inspired by flawless hair, makeup, and styling," said Elena Long Program Head of Battle of the Strands. "And with this year's marathon of challenges, he is looking for that exceptional salon team, cut above the rest, who can proudly represent the entire industry to the rest of the world," she added.
Ranked #4 in Salon City Magazine's HOT 100 SALONS IN AMERICA, master stylist and colorist Kim Vo has been named "Best Blonder in the Business" by Vogue, Best Colorist - 2010 Star Beauty Awards, #1 of 40 Top Colorists of America by BE Magazine, Master Colorist to the Hollywood Elite-Behind the Chair, and was chosen Blonde Ambassador for Schwarzkopf's Blonde Me line of hair care products.
He has also been featured in the most respected beauty, salon and fashion magazines such as Vogue, American Salon, US Magazine, Beauty Biz, Dream Team Makeovers and many more. "It is no surprise that prominent Hollywood celebrities like Britney Spears, Kate Hudson, Katherine Heigl and many others trust him to keep their hair looking fabulous," Elena continued. And his accolades continue to grow within the industry, along with his clientele in his thriving salons in Beverly Hills, Las Vegas and Laguna Beach.
When it came time to select a host, the choice was easy for Vegas Beauty Unbound, the event's producers, according to Erin Utter, the organization's Director. "Kim has the passion, intensity, creativity, and vision that epitomizes our competition. When he agreed, we knew this year's battle would be our best ever."
For 2012, Battle of the Strands partnered with Project Runway's LookTV to capture and air all the action & excitement when the small town salons & big city teams collide, with the final battle to be held at the "Joint", Hard Rock Casino Hotel in Las Vegas. "With Kim's experience as judge & being featured in Bravo's Hit Show Shear Genius, E! Entertainment's Daily 10, and ABC's Extreme Makeover, we are confident that as host & reigning winner, he has what it takes to lead the teams of salon contenders around every unexpected twist and exciting turn, working with celebrity judges throughout the competition," said Erin Utter.
This October, Battle of the Strands 2012: Xtreme Beauty will take Las Vegas by storm. With Kim Vo heading up the quest for the most extreme salons, viewers and attendees are assured to experience one fabulous, unpredictable & outrageous show.
About Vegas Beauty Unbound
From October 20-22, Vegas Beauty Unbound will descend on the strip to create conscious awareness of the transforming Beauty Industry. Beauty professionals and industry icons will participate in education and networking sessions, experience new tools, and witness and participate in explosive battles that challenge them in new ways.
The centerpiece is the epic final salon showdown on October 22 of Battle of the Strands 2012: Xtreme Beauty, the most extreme salon competition in history. Other highlights include the Mane, Style, & Face (social media) Forum, the Beauti Gras Halloween Celebration at Body English, Oct 21st, a student competition, and fashion show.
Sponsors include VisitLasVegas.com / Las Vegas Convention and Visitor Authority (LVCVA), Lamborghini of Las Vegas, Audi Henderson, Bhumi Makeup Brushes, and Izunami Hair Tools of New York, with others to be announced.
For More Information
For more information about the event or to request media credentials, please contact Erin Utter, Director of Operations, Battle of the Strands, at 702/990-3368 or 702/612-0394, email erin(at)emailbestbeauty(dot)com or visit battleofthestrands.com
###