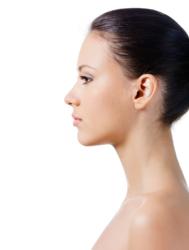 Meso-CRF Chin Tuck is not only pain-free but actually pleasant - clients quite often "doze off" while receiving the treatment
London, UK (PRWEB) June 25, 2012
LipoTherapeia, London's leading radiofrequency and no-needle mesotherapy clinic now offers a Meso-CRF Chin Tuck, a dedicated non-surgical chin-tuck treatment, which promises to reduce excess fat and saggy skin on the chin/jowl/cheek area, without the pain, scar tissue and swelling associated with surgical or needle-based procedures.
After a certain age, the skin around the chin and cheek area becomes loose, as fat starts to accumulate in the area. It is now well known that when fat expands it breaks down the collagen architecture around it to facilitate it's expansion. This process leads to the saggy, fatty appearance we call jowl / double chin, found usually in women in their fourties. However, this process can start pretty early in life, as early as the twenties.
Fat accumulation on the cheeks themselves can puff-up the contours of the face, virtually "hiding" the cheekbones and the beautiful contours associated with them. Furthermore, fat around the laugh lines (nasolabial folds) accentuate those lines, leading to a more aged appearance.
Weight loss may facilitate the removal of fat from those areas but it can not do anything for the saggy skin created in the area by the previous expansion of fat tissue.
Liposuction (plain, ultrasound-assisted or laser-assisted) can correct some of these problems but requires singificant downtime, may leave scar tissue behind and involves swelling, pain and potential complications. For all these reasons more and more women are considering non-surgical methods such as Meso-CRF Chin Tuck.
Meso-CRF Chin Tuck is the combination of high-power monopolar radiofrequency with 15-ingredient electro-mesotherapy. Contrary to other radiofrequency treatments, Meso-CRF Chin Tuck is not only pain-free but actually pleasant - clients quite often "doze off" while receiving the treatment. The 15 skin firming / fat-fighting actives in the mesotherapy cream/gel boost the action of radiofrequency for a synergistic virtual mesotherapy effect.
Meso-CRF Chin Tuck results are obviously more gradual and less radical than those achieved with surgery, but contrary to surgery these results are achieved with no pain, swelling scars, tissue hardening, surgical complications or infections.
LipoTherapeia suggest 12 Meso-CRF Chin Tuck sessions in most cases, typically taken in two courses of 6 sessions. "As the client finishes the first course they have a pretty good idea of the effectiveness of the treatment and can the proceed for the extra 6 sessions", explains Georgios Tzenichristos, who specialises in radiofrequency treatments for the face and body. "A full course of 12 sessions usually takes 6-12 weeks, meaning that the treatment is a more gradual and less radical approach to that of surgery. For comparison, liposuction results can take 3-6 months to appear", adds Georgios.
Clearly, Meso-CRF Chin Tuck is not a miracle and Georgios discourages women with large amounts of fat or skin looseness from having the treatment, referring them to a surgeon instead. But for the less severe cases, natural methods, such as monopolar radiforequency and electro-mesotherapy, may be preferrable to the drama of intrusive procedure such as surgery or injections.
But what about those that offering non-surgical procedures that claim to "get rid of your fat" in one or two sessions? How does this compare to the 12 sessions proposed by Lipotherapeia? "People believe the hype that one or two super-expensive "luncthime" non-surgical procedures can eliminate their chin or jowl fat, but this could not be further from the truth. The truth is that a good 12 sessions are typically needed for good results in most cases - even with the very best technology has to offer. Miracles do not exist!" proclaims Georgios. "We want to be responsible and honest with our clients and we want them to be happy with the final results, so we do not make exaggerated promises and we tell things as they are right from the beginning. If a client wants hype we do encourage her to go somewhere else! Technology is amazing these days and provides great results in most cases, but it takes time and repeated treatments for satisfactory results."
Meso-CRF Chin Tuck has an 100% safety record to date, with zero side-effects after 18 months of offering the treatment at LipoTherapeia. The treatment is offered exclusively by Georgios and his assistant at the boutique Knightsbridge-based aesthetic practice, where more than 100 procedures are provided each month.
----------------------------
About LipoTherapeia

Meso-CRF is exclusively available at LipoTherapeia, 202 Walton Street, Knightsbridge/South Kensington, London SW3 2JL. Tel: 020 7047 1982. To email LipoTherapeia please fill the form at http://www.lipotherapeia.com/talk-to-the-expert.
Meso-CRF can be used on the whole body for skin firming, cellulite removal and localised fat reduction: calves, knees, inner thighs, outer thighs, buttocks, waist, stomach, upper arms, décolleté, neck, under chin, jowl, cheeks, under eye bags, crow's feet, forehead.
Most women experience the first long-term results with Meso-CRF in 3-4 sessions, with the best results typically achieved in 6-12 sessions, according to each individual's needs.
----------------------------
Disclaimer

Meso-CRF offers great results in comparison to the majority of radiofrequency, cavitation and needle-free mesotherapy treatments, because it simultaneously combines these two techniques, also saving you time and money (a course of 6x Meso-CRF sessions is equivalent to 12x stand-alone RF and electro-mesotherapy treatments). These results occur when the treatment is combined with diet, exercise and smoking/alcohol avoidance.
However, nothing biological can be guaranteed by any treatment or any technology, surgical or non-surgical, including Meso-CRF. For this reason LipoTherapeia cannot make specific guarantees about specific results after a specific number of sessions, as those not only depend on the effectiveness of the technology used but also on factors over which we have no control, such as the client's diet, exercise and drinking habits; her genetics; her overall health; the severity of her skin looseness/fat accumulation; and her goals/expectations. The guidance of 12 sessions, is only indicative of the amount of sessions required and less or more sessions than 12 may be needed, depending on the factors mentioned above.