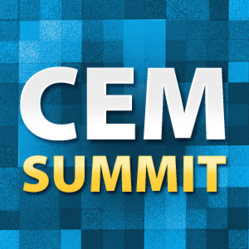 Innovative companies recognize that in order to succeed, their marketing must be driven by the message, media and contact frequency preferences of their customers and prospects
Atlanta, Georgia (PRWEB) June 25, 2012
PossibleNOW, the leading provider of customer experience and preference management solutions, today announced it will host the inaugural Customer Experience Marketing (CEM) Summit scheduled to take place September 19-20 in Atlanta. The CEM Summit will focus on best practices in customer experience personalization and preference management and the strategic importance of letting customers drive interactions with B2B and B2C marketers.
"Consumers are rewarding businesses that listen and walking away from those that market blindly," said Scott Frey, CEO of PossibleNOW. "When consumers direct the dialog based on their stated interests, message relevance and marketing results increase."
"Innovative companies recognize that in order to succeed, their marketing must be driven by the message, media and contact frequency preferences of their customers and prospects," said Ernan Roman, President, Ernan Roman Direct Marketing, author and Marketing Hall of Fame inductee. "Our clients who implement customer preference-driven marketing are consistently achieving double-digit increases in response and revenue."
Attendees will participate in interactive sessions with a range of experts from global brands including Coca-Cola, Intuit, Symantec and more. The event will also include presentations from marketing pioneer Ernan Roman, Direct Marketing Association Vice President of Government Affairs, Rachel Thomas and others.
With a focus on the critical roles that preferences, personalization and privacy play in executing high impact global marketing campaigns, the CEM Summit will include a variety of learning opportunities such as breakout sessions, expert panels, roundtable discussions and networking events. CEM attendees will use innovative technology to poll live audience feedback and publish the findings following the conference. To register, view an agenda or learn more about featured speakers, go to http://www.cemsummit2012.com, call (855) 451-9752 or email cemsummit (at) possiblenow (dot) com. Early-bird registration savings expire on July 31 and the event is expected to reach capacity, so sign up early.
About PossibleNOW
PossibleNOW, headquartered near Atlanta, Georgia, is the trusted source for consumer preference management and compliance solutions. PossibleNOW leverages its expertise in information technology, database management, and consumer privacy and regulatory compliance to provide cloud-based applications and solutions. PossibleNOW's MyPreferences™ is an enterprise preference management solution that effectively collects and manages the contact preferences of customers and prospects including servicing, privacy, marketing (opt-in and opt-out) across all marketing channels and makes the preference data actionable. The DNCSolution® suite of cloud-based services provides comprehensive tools that help direct marketers comply with federal and state Do Not Contact legislation (Do Not Call, Do Not Fax, Do Not E-mail, Do Not Mail). For more information, call (800) 585-4888 or (770) 255-1020, e-mail info (at) possiblenow (dot) com or visit http://www.possiblenow.com.