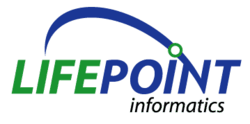 Partnering with Lifepoint has helped us to establish a strong presence with providers and drastically reduce the cost of lab to EMR interfacing.
Glen Rock, NJ (PRWEB) June 26, 2012
Lenco Diagnostic Laboratories, Inc. is a full-service clinical reference laboratory located in Brooklyn, NY. Handling close to 2,000 orders per day, Lenco takes great pride in continuously meeting the needs of its physician clients and their patients. Lenco's team of highly dedicated specialists are committed to providing high quality services along with competitive pricing, best in the industry turnaround times and a first-time right service attitude. Lenco's laboratory services include basic and specialty diagnostic testing; from blood counts to genetic testing for rare diseases.
Lenco has developed a state-of-the art IT department that enables their clients to access patient results from anywhere there is a secure connection to the Internet. For the past seven years Lenco has used Lifepoint Informatics Web Provider Portal to give their providers access to concise, up-to-the-minute patient information across multiple care settings anytime and from anywhere there is Internet connectivity. As more and more of Lenco's physicians and other healthcare providers began to implement electronic medical records (EMR), Lenco needed to be able to seamlessly connect with the disparate EMR systems that providers were opting to use.
Lenco recognized that they had to take a proactive approach to quickly enabling these EMR interfaces to solidify their provider relationships, lock in repeat business, attract new providers and to continue their high service standards. They turned to Lifepoint Informatics to secure their lab's foothold in provider-side EMR systems and implemented Lifepoint's EMRHub solution. EMRHub requires one connection from Lenco's LIS to distribute lab data to an unlimited number of EMRs and support physician direct order entry. Utilizing EMRHub as their virtual integration platform, Lenco is more responsive to EMR interface requests to continue to support and attract providers. Lifepoint was able to provide rapid implementation for the EMR connections to meet Lenco's client demand and within 3 months had successfully completed 50+ EMR interfaces.
Implementing successful EMR/EHR integration and interfaces is not a simple process considering the number of systems in the market and the unique way vendors address HL7 standards. According to Feliks Pinkhusovich, Lenco CIO, "Lifepoint's EMRHub eliminated building and maintaining custom point-to-point interfaces that we were previously relying on. Our IT staff can now more focus on building our outreach business as we know Lifepoint has our connectivity and integration needs covered. We benefit from Lifepoint's vendor neutral approach that allows us to process clinical messages and lab orders with our existing LIS and provider EMRs. The Software as a Service (SaaS) delivery and rapid implementation have delivered substantial cost savings."
Dennis Yurovsky, VP of Operations at Lenco agrees and adds, "Partnering with Lifepoint has helped us to establish a strong presence with providers and drastically reduce the cost of lab to EMR interfacing. Providing Lifepoint's Cloud based single interface, virtual integration platform has strengthened our client connection and enabled us to focus on outreach success."
"We can now approach providers and offer a quick and efficient way to get them up and running with Lifepoint handling our EMR integration which adds to our outreach success," comments Tom Asher, VP of Sales at Lenco.
Lifepoint has partnered with many leading EMR and EHR vendors to provide medical labs and pathology groups of all sizes with standardized interfacing for quick and affordable connections with any EMR or EHR. EMRHub is a cost effective and reliable solution to today's EMR integration challenge. To learn more about EMRHub, contact a Lifepoint Solution Specialist at 1-877-LAB-Test (1-877-522-8378) or visit http://www.lifepoint.com.
About Lifepoint Informatics
Lifepoint Informatics is a leader in health IT focusing on laboratory outreach connectivity, health information exchange and clinical data interoperability to help healthcare providers improve patient care and lower costs through the use of information technology. Since 1999, Lifepoint Informatics has enabled over 200 hospitals, clinical labs and anatomic pathology groups to grow their market share and extended their outreach programs through the deployment of its ONC-ATCB certified Web Provider Portal and its comprehensive portfolio of ready-to-go EMR and EHR interfaces. For more Information please visit http://www.lifepoint.com.