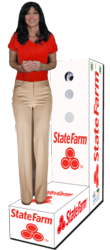 the Holographic Greeter delivers the message-on point, time and time again
Orlando, FL (PRWEB) June 26, 2012
At State Farm's Annual Technology Summit the focus usually centers on how to deliver remarkable Customer service and how to help Customers "get to a better State" through technology. This year the centerpiece of future technology, the Holographic Greeter, stole the show. While interacting with Attendees with witty banter, the Holographic Greeter also showcased some of State Farm's latest advertising creative with its screen-in screen capabilities. The Holographic Greeter was used at the entry of the Summit to welcome Attendees and raise awareness of the Summit's focus. Once the Summit was over, the Holographic Greeter ushered Attendees out and gave one last message reinforcing State Farms commitment to helping Customers "get to a better State".
The Holographic Greeter is committed to delivering your message and gets that done like no other medium. The Holographic Greeter can be positioned virtually anywhere and is a high-tech communications platform that serves up information and personal greetings in a decidedly unique fashion. Because the Holographic Greeter is so animated and compelling, Advertisers can deliver their message or introduce new products to a receptive audience without intimidation. Retailers, Museums, Hotels, Attractions, Mass Transit, Schools, Hospitals, Trade Expos, Doctors, Offices, etc are finding this a must have for engaging the Customer and meeting their marketing objectives.
Whether you are using the Greeter for Retail Sales or simply trying to stand out in the crowd of saturated advertising messages in today's Retail environment, the Holographic Greeter delivers the message. Easily incorporate your Brands portfolio with the Greeter's iPad PowerPoint presentation, show streaming video of your creative with frameless screen in screen capabilities and captivate with our Dual Touch Screen Interactive Kiosk, which can provide promotional discounts, registrations, exit polls, surveys or even dispense coupons. We guarantee to be the most impactful on site media available today. Because our Business Model revolves around our Universal Master Design Concept™, we are able to offer the most affordable Cost in Market. Designing around a Master Silhouette allows for seamless updating of videos and doesn't require complete retooling of the platform so keeping your creative fresh is quick and easy. With our lease program, upfront costs are extremely low and updating content with additional videos is so affordable you will be tempted to change your marketing creative daily!"
The Holographic Greeter is the only patented system on the market designed exclusively for the constraints and rigors of Retail. All Steel construction features a compact 15" x 40" footprint (27" x 40" with the Counter Display Module) and will fit in the tightest Retail environment while the overall height of 5 feet 6 inches allows your message to make a big impact! With features like Stand Branding in your own Brand equity, customized AromaFusion™ scent delivery system, Speaking Glass™, Counter Display Module™, wireless updating, Video-in-Video capabilities and interaction using QR Codes and/or the Dual TouchScreen Interactive Kiosk concept, the Holographic Greeter is sure to be unmatched in its ability to deliver.
Amanda Bridges, Business Development Manager at Marketing Ad Group says "the Holographic Greeter delivers the message-on point, time and time again. By the end of the Summit, the Greeter was still going strong, the State Farm presenters on the other hand… "
Marketing Ad Group offers the Greeters with an incredibly attractive lease program or for direct purchase or even through their Co-Op Program which offers participating Retailers an opportunity to turn this captivating promotional and branding concept into a revenue producing vehicle for their Business while also benefiting from the increased exposure and sales lift provided by this captivating device.
For more information, contact Amanda Bridges at 888-965-5336, visit http://www.holographicgreeter.com