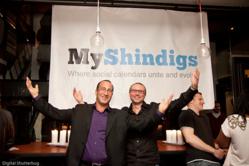 "MyShindigs has provided an all encompassing, diverse, and effective social network for our company to market and grow our various new restaurants and bars...."
Boston, MA (PRWEB) June 26, 2012
As site audiences continue to grow many different user demographics are discovering their own benefits to using the free event and party planning site MyShindigs.com. The web site is a robust event creation social network with many tools that help to manage, promote and broadcast member events. 'Simply put we are socializing SAS and allowing our event planning software clients to interact not only with one another but also with their own clients and the general public as a way of facilitating bigger and better parties and events' say the site co-founders Jason Andrews and Matthew Tautt.
Users interested in attending events organized by venues and event planners are able to follow those they find most intriguing. By following party hosts they immediately receive alerts when their favorite organizers post a new event. The site allows anyone to find local public parties and events and invite themselves. 'We are striving to put an end to lonely nights at home when there is so much to experience in and around each major metropolitan city in the world. We are attempting to be a connector and bridge the gap between the public and the many exciting parties and events around them' says Matthew. In place of status lines, party hosts broadcast their upcoming events to other members.
Icon Legacy is one hospitality, entertainment, and event group that is benefitting from MyShindigs and its Shindig Nation as the many party and event seekers on the site have come to be known. 'MyShindigs has provided an all encompassing, diverse, and effective social network for our company to market and grow our various new restaurants and bars.' says Hanif Harji (owner) of Icon Legacy.
Icon Legacy is a leading hospitality company focused on creating restaurants and bars that are committed to authenticity and originality in everything that it does. At the core of its organizational mantra is humility. As such, the organization has pronounced respect for ingredients used to prepare its meals and beverages, materials used to build its outlets and the standards of service required by all staff.
Icon Legacy owner Hanif Harji(Blowfish, Colborne Lane, Kultura, Nyood, F-Stop) brings a trans-global innovative approach to restaurants and bars that transcends the here and now. 'With new restaurants, bars, and event spaces opening in the coming months, Icon will continue to take advantage of the effective multi-discipline broad based social media platform offered by MyShindigs to grow its consumer base' adds Hanif.
Icon Legacy plans to open Weslodge, a new modern saloon in July and a new Spanish restaurant called Patria in August. 'Our objective is to create an increasingly better online experience for companies such as Icon Legacy that will help facilitate and grow their business', while at the same time giving the general users of our site the opportunity to try new things, visit different venues, and more closely interact with one another while expanding and evolving their social calendars' says Jason.
MyShindigs is fast becoming a strong integral events management, promotions and broadcast partner for party and event planners, entrepreneurs, and all those in the hospitality and entertainment industry. The evolution of social media into the next generation appears to be in good hands with websites such as MyShindigs.
About MyShindigs
MyShindigs is a social networking platform that specializes in allowing members to plan, organize, manage and promote their public, private and company events and parties. MyShindigs allows users to search out, share, follow and join each other's events and parties of interest to expand their social calendar throughout their lives. For more information, visit http://www.myshindigs.com.