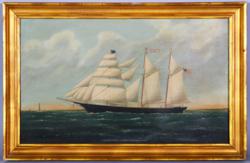 Beverly, Massachusetts (PRWEB) June 30, 2012
Kaminski Auctions is pleased to present an exciting two-day Nautical, Americana, and Estate Auction on July 14th and 15th. The sale will take place at the scenic Devereaux Estate at 291 Nahant Road in Nahant, Massachusetts. Featuring wonderful collections of American furniture, nautical paintings, decorative art, silver, and jewelry, the sale will also be accompanied by a two-day tag sale at the estate.
Highlights in the nautical genre will be two wonderful collections of paintings by Antonio Nicolo Gasparo Jacobsen (American 1850-1921) and William Pierce Stubbs (American, 1842-1909). Denmark-born Jacobson and Maine-born Stubbs are two artists renowned for their extensive works of American maritime scenes. Both artists' works have also appeared in many of the nation's leading museums, art galleries and auction houses, for their ability to masterfully capture ships and seascapes.
In July, Kaminski Auctions will feature three noteworthy framed oil paintings by Jacobsen including the ship "Jamestown" signed and dated 1910 (estimated $7,500-12,500), a steamship under way signed 1889 (estimated $7,000-12,000), and the ship "Mohawk" signed and dated 1911 (estimated $7,000-12,000). Six distinguished framed oil paintings by Stubbs will be up for sale: "Friendship" under sail (estimated $6,000-9,000), "Abbie S. Walke" under sail (estimated $5,000-8,000), "Gracie" under sail (estimated $5,000-8,000), "Golden Hope" under sail (estimated $5,000-8,000), a three-masted ship under sail in rough seas ($5,000-8,000), and Schooner under sail (estimated $5,000-8,000). A wonderful piece by artist Brian Coole (British, 1939), depicting the America's Cup Race of the Isle of Wight at The Needles (estimated $7,000-10,000), will also be featured in this July auction.
Many important pieces of antique furniture will appear in the Americana portion of the sale. An 18th century Philadelphia Chippendale walnut chest with four graduating drawers and brass chestnut pattern hardware will be on offer (estimated $2,500-3,500). And, an Early American slant lid desk with hidden interior drawers and a serpentine front (estimated $2,000-2,500), and an important set of six late 18th century mahogany Hepplewhite chairs with nicely inlaid backs (estimated $2,000-3,000), and an early 19th century mahogany Thomas Seymour Boston four-drawer chest, having half moon inlaid border, original Benjamin Franklin brass drawer pulls (estimated $10,000-20,000) are also highlights of the Americana collection.
Among the impressive silver collection is an Early American silver porringer by Francis Richardson of Philadelphia (estimated $4,000-6,000), with note inscribed Thomas Burr Woolman, Edith Starr Churchman, and Edith Anna Woolman Churchman. A seven piece Reed & Barton sterling silver tea and coffee set in Hampton Court pattern and including a hot water on stand, coffee pot, tea pot, creamer, covered sugar, bowl, and tray (estimated $4,200-5,000) is also a part of the sale.
To further the variety of items included in this auction, Kaminski will also be selling several notable lots of jewelry. At the center of this collection are two pieces by Tiffany. One pair of Tiffany 18 karat yellow gold with sapphire and diamond figural bee earrings with posts (estimated $2,500-2,700) and a Tiffany 18 karat yellow gold and ruby 1960's brooch with 3.0cts of Burmese rubies (estimated $1,800-2,200) will be on offer.
Smalls in the sale include a unique 19th century small whale pan bone with scrimshaw throughout depicting two girls, a political satire figure, and a large bird (estimated $3,000-5,000), as well as a rare pair of leather fire buckets, dated 1803, painted Washington Fire Company, N.F. Safford (estimated $12,000-15,000) are included in the July sale. And an early 19th century brass telescope on a tripod stand, measuring 70" h and 51" scope, marked Amler Coe & Co., Chicago, and inscribed "Bardou & Sons, Paris" in its original box with lenses (estimated $4,000-7,000) are additional items that will be on offer at this incredibly diverse on-site auction.
A tag sale of the contents of the Devereaux Estate and additions from other estates will run simultaneously with the auction on Saturday starting at 8:00am and will continue all day Sunday starting at 10:00 am. For further information or to register to bid please go to http://www.kaminskiauctions.com or call 978-927-2223.
Kaminski Auctions is located on the North Shore of Boston. For over 25 years, it has served the New England art market, acting as a full service auction house and appraisal service for fine art, antiques and estates. With two locations in Beverly, Massachusetts, including a new state of the art auction gallery located at 117 Elliot Street, and a historic 1850s barn and office facility at 564 Cabot Street, Kaminski Auctions hosts 16 sales a year.