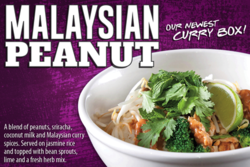 We now serve our existing curry sauces in its traditional format, with rice.
Surrey, BC (PRWEB) June 27, 2012
Wok Box is announcing its newly revamped menu in Canada this summer. The quick service menu offers exciting new dishes that include curry boxes such as Malaysian Peanut, Thai Red and Jungle Lemongrass curry.
These new items are created by Wok Box's executive chef, Don Letendre, whose goal is to add more distinct Asian dishes to the menu, and to improve on existing ones by introducing fresher and more authentic spices and flavors. In addition, he has also introduced sustainable ingredients such as prawns that have a BAP certification.
Don says: "I am very excited about our new menu category, 'Curry Boxes'. We now serve our existing curry sauces in its traditional format, with rice. I am also very thrilled with the results of our new sauce 'Malaysian Peanut'. The Malaysian peanut sauce has many layers of flavors, including fish sauce, hoisin, creamy coconut milk and our house made Fire Cracker sauce. It is an excellent sauce as a curry, with the addition of the amazing herb salad and squeeze of fresh lime, absolutely delicious."
Along with these delicious dishes, customers will see a new menu look representing the Pan Asian region that these dishes draw their inspiration from. Some of the prices have also been lowered to offer better value and choices to the customers.
About Wok Box
Wok Box specializes in freshly cooked, quick and healthy Asian cuisine. Its menu focuses on serving Stirfry Noodle Boxes, Rice Boxes, Curry Boxes, Soups and Appetizers that are inspired by a wide variety of Asian influences, using fine authentic spices and high quality ingredients. It offers a contemporary and fun dine-in atmosphere, as well as take-out services with distinctive Asian boxes. Wok Box opened in 2003 and currently operates nearly 60 locations in Canada, and will soon open up USA locations in Oregon and Arizona in the first half of 2012.
For more information, please visit wokbox.net.
Follow us on Twitter @wokbox.
Like on Facebook.