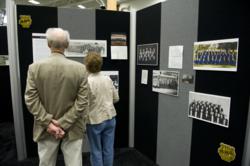 Sheboygan, Wis. (PRWEB) June 25, 2012
More than 1,100 alumni and friends helped Lakeland College celebrate its 150th anniversary on June 21-24 as the college hosted an All-College Reunion.
Beginning with Thursday night's opening celebration service in the Bradley Theatre through Sunday morning's service in the Ley Chapel, alumni spent hours enjoying events and historical displays and catching up with former classmates and roommates.
There were a number of highlights, including:
-- Hundreds spend time re-connecting and learning in Sesquicentennial Square, an interactive display in Woltzen Gym featuring artifacts and videos from the college's history. The room was divided into sections by topic/group and was manned by alumni volunteers throughout the weekend.
-- The college's three most recently retired presidents – Richard Hill (president and chancellor 1977-91), David Black (1989-97) and Steve Gould (1998-2012) – shared stories and memories during a panel discussion Saturday afternoon that drew an overflow crowd. The college's incoming president, Michael Grandillo, led the discussion. It's the first time in the college's modern history that four presidents have been on campus together.
-- Friday night's "Seasons of the Muskies" banquet, which reunited athletes from eight decades. Pat Curran '72, who played 10 seasons in the NFL for the San Diego Chargers and Los Angeles Rams, delivered the keynote address. More than 20 members of the college's Hall of Fame attended and were recognized, and a short video chronicling the history of the college's athletic department made its debut.
-- Saturday afternoon's Homecoming Luncheon, where members of the Class of 1962 were inducted into the college's Emeritus Club on the occasion of their 50th reunion. The event also included a stirring speech from Grandillo. Lakeland's next president and his wife, Nancy, spent the weekend on campus prior to formally taking over as president in July.
-- Dozens of alumni took part in the reunion band and choir concert on Saturday afternoon. The groups had rehearsal sessions on Thursday and Friday leading up to their performance.
-- The college re-dedicated its Arts Department Wall of Distinction in a ceremony on Saturday and added a new person to the wall, Professor Emeritus James Crawford. Crawford retired as professor of theatre and speech in 2007 after 30 years during which he produced 140 full-length and one-act plays.
-- Nearly 300 golfers participated in the Blasters Golf Class on Friday. Golfers competed in the Moose Woltzen Cup at The Bull at Pinehurst Farms near Sheboygan Falls and the Mike Devaney Cup and Millennium Cup at Town & Country in Sheboygan. The tournament raises money for student scholarships and various needs in the Lakeland athletic department.
Lakeland was founded in 1862 by German immigrants who had settled the Franklin area. Abraham Lincoln was president, the U.S. was in the second year of the Civil War and Wisconsin had achieved statehood 14 years earlier.
The school's founders were members of the German Reformed Church, and while they organized congregations in the area, they saw a need for a school to train additional ministers. In 1860, farmers Simon Steffen and Friedrich Reineking donated land for construction of the "Missionshaus" (Mission House).
The combined seminary and academy had more than 100 students by the early 1890s. Co-eds were admitted to the academy in 1898, and the first women graduated in 1905.
A series of events in the 1950s helped shape today's college. In 1954, Mission House bought out the Sheboygan Business College and moved that program to campus. In 1956, the church approved splitting Mission House College and Seminary.
A committee was formed to re-name the college, and they settled on Lakeland, although records on how they arrived at that name are not clear. Other names considered included River Heights, Chapel Wood, Mount Herman and Wisconsin Woods.
In 1962, the seminary moved to Brighton, Minn., to become part of United Theological Seminary of the Twin Cities.
Today, Lakeland serves nearly 4,000 students at its Sheboygan County campus, seven adult learning centers in Wisconsin, through its online program and at a two-year campus in Tokyo, which opened in 1990.