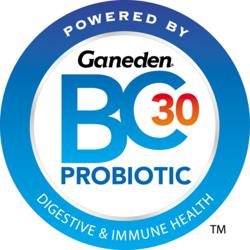 CLEVELAND, OH (PRWEB) June 26, 2012
Ganeden Biotech®, a recognized world leader in the manufacturing and marketing of probiotics, announced today that its industry leading probiotic GanedenBC30® has been chosen as the probiotic for Uncle Wally's® new Smart Portion Muffin Tops.
Uncle Wally's, best known for its homestyle and gourmet muffins, has long been known for high quality baked goods, not only in traditional recipes, but also in the nutritional specialty areas of fat free, sugar free, high fiber and portion-controlled products. The Smart Portion Muffin Tops are their first entry into the probiotic-enhanced product category.
"Adding the probiotic feature allows us an additional benefit to differentiate our product from the competition," said Jerry Ceccio, Sales and Marketing Vice President, Uncle Wally's. "GanedenBC30 provides a digestive and immune health advantage that other muffins lack."
Found in the all-natural freezer case, Smart Portion Muffin Tops are baked with flax seeds, providing Omega 3's, as well as an excellent source of calcium and vitamin D and fiber. Available as four individually wrapped muffin tops in one container, the Smart Portion Muffin Tops come in Cranberry Apple, Rich Double Chocolate, and Wild Blueberry. The muffin tops will be available to consumers in all New York King Kullen stores in July and other New York and New England retailers soon thereafter.
"We're happy to be able to help make people's food choices healthier by adding probiotic GanedenBC30," said Mike Bush, Vice President of Business Development, Ganeden Biotech. "The unique makeup of GanedenBC30 protects the probiotic during the extreme temperature changes that occur in some manufacturing processes such as baking and freezing. It's a strength that's simply unmatched in regards to probiotics."
About GanedenBC30
GanedenBC30 (Bacillus coagulans GBI-30 6086) is a patented natural probiotic, or good bacteria, manufactured by Ganeden Biotech that has been researched and shown to support the immune and digestive systems.
While most strains of good bacteria need to be delivered in capsule form, Ganeden's probiotic delivery system is different—it's an ingredient, consumed in a variety of foods and beverages such as breads and muffins, nutrition bars, yogurt, protein powder, and even chocolate.
GanedenBC30 is a high-survivability probiotic. It has a naturally occurring layer of organic material that protects the genetic core of the bacteria. This protective layer provides the probiotic the ability to survive extreme temperatures involved in food and beverage manufacturing processes, shelf life, stomach acids and intestinal bile. Other probiotics, such as Lactobacillus and Bifidobacterium, are unable to form this protective layer, making them more vulnerable to manufacturing conditions.
About Uncle Wally's Muffins
Uncle Wally's, based in Shirley, Long Island (NY), was founded in 1995 by Wally "Famous" Amos and Lou Avignone. In addition to producing its own popular branded muffin products, Uncle Wally's is a valued baking partner to some of the most highly regarded companies in food and retail. The Uncle Wally's family of muffins and the company's private-label products are sold in more than 10,000 stores. The company is privately held and 100% employee owned. Uncle Wally's operates two Long Island-based production facilities with four baking lines, totaling 100,000 square feet. The company has earned an AIB "Superior" rating 3 years running for its food safety programs, in accordance with AIB International's Consolidated Standards. In addition, Uncle Wally's maintains an SQF 2000 Level 2 Certification as a supplier of Safe Quality Foods. You can find more information about Uncle Wally's and its products at http:///http://www.unclewallys.com and http://www.facebook.com/unclewallysmuffins.
About Ganeden Biotech
Founded in 1997, Ganeden Biotech is based in Cleveland, Ohio, and is at the forefront of probiotic research and innovative product development with GanedenBC30®, its patented, probiotic ingredient, GanedenBC30 can be found in more than 50 foods, including popular brands like Red Mango frozen yogurt and ice teas, Naked Pizza pizza dough, Heartland Sweeteners Nevella with Probiotics, and R.C. Bigelow's Herb Plus Tea. For more information on the probiotic ingredient GanedenBC30 and licensing opportunities for food and beverage applications, visit ganedenlabs.com.