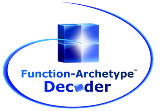 (PRWEB) June 26, 2012
The Function-Archetype Decoder is now available exclusively through Type Resources. This unique tool combines visual and narrative approaches for examining interpersonal interactions. It provides helpful insights to assist individuals work through communication issues and behavioral differences.
When wondered why a certain team member has trouble being accepted by other team members? The Function-Archetype Decoder will make the reasons obvious. If team members consistently overlooks certain aspects of a situation or do not consider certain perspectives when planning or making decisions, the Function-Archetype Decoder will highlight the causes and provide suggested activities for learning to think in ways necessary to overcome these shortcomings.
If a person has an immediate negative reaction to someone when engaging them in conversation, the Function-Archetype Decoder will show why it happened.
The Function-Archetype Decoder is a cloud based tool that is updated annually to keep current with the latest thinking regarding the application of Jungian Type Theory. It applies Jung's theory dynamically honoring the ability of every person to use each of Jung's function-attitudes while allowing each function-attitude to carry different kinds of emotional energy and at different levels of intensity. This makes it possible for individuals to use the Function-Archetype Decoder to assess one's ability to consciously access a function-attitude and use it comfortably and effectively.
When working with teams, the Function-Archetype Decoder will identify potential blind spots in team processing and potential conflict between team members. It will also show what function-attitudes the team members are using individually, but probably not sharing with the rest of the team which can lead to conflict between members. There is no limit to the number of teams that may be active in the Function-Archetype Decoder, nor is there a restriction on how many members can be in a team.
When working with individuals, the Function-Archetype Decoder provides type descriptions for each of the 16 types based on research gathered from thousands of people attending MBTI® certification programs conducted by Type Resources over a ten year period. These descriptions are wonderful tools for helping a person determine one's best-fit type code. It also provides information on how people react to each function-attitude in each of the eight positions. Additionally, it provides activities to become skillful when using each function-attitude as well as what to avoid.
Type Resources offers FREE demonstration webinars on how to use the Function-Archetype Decoder, and those attending the demonstration receive a five day trial to examine its unique features. Information on how to register for the free demonstration is available on the Type Resources website or by calling 800-456-6284.