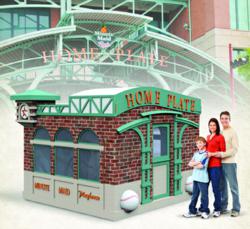 Houston, Texas (PRWEB) June 26, 2012
HomeAid Houston's Project Playhouse is preparing to make its debut at Minute Maid Park, home to the Houston Astros, on July 23rd. Baseball fans will get a close-up look at the playhouse and will be able to purchase $5 raffle tickets during the games through August 19th or online now through August 16th at http://www.homeaidhouston.org. HomeAid Houston is a Greater Houston Builders Association charity that builds transitional housing for Houston's homeless.
For the sixth year, HomeAid Houston is partnering with the Houston Astros for this popular fundraiser. Joining the team this year is award-winning builder, Lennar/Village Builders who is donating the construction of the playhouse. They modeled the design after Minute Maid Park calling it "Minute Maid Playhouse".
Project playhouse has been on display at several venues beginning in April and the drawing will take place on August 19th during the Astros vs. Diamondbacks game.
Team members from Lennar/Village Builders who are key to the success of this year's fundraiser include Cindy Hinson, Casey Judkins, Marco Cordon, Brandon Ross, Ken Boysen, Jeff Lee, Sam Teuton and Tim Gregory.
The playhouse includes A/C, an X-Box 360 with Kinect, an electric train with tracks that circle the ceiling, rope lighting, a 32" flat screen TV, a mini refrigerator and an iPod and docking station. The interior of the playhouse captures several elements of the actual Minute Maid Park with a painted mural of seated fans, a flooring application that replicates the field and furniture and memorabilia that relates to baseball and the Astros.
The playhouse is built with donations of materials, labor and services by Greater Houston Builders Association member companies. This year's four top level sponsors are Cypress Creek Lakes by Mischer Development, Environments for Living, Fairfield by Friendswood Development and Pella Windows & Doors, all $3,500 "Hall of Fame" sponsors.
For more information on HomeAid Houston's Project Playhouse and how to purchase tickets, visit http://www.homeaidhouston.org