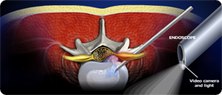 A decision to have surgery should consider results from diagnostic tests and physical examinations, and response to nonsurgical treatment for a herniated disc
Edison, NJ (PRWEB) June 26, 2012
The Orlando Magic basketball team has missed its mojo since center Dwight Howard's was diagnosed with a herniated disc and sidelined for the season. A herniated disc (also known as a slipped disc) happens when the inner disc material, called the nucleus, seeps through the tough outer wall of the disc. In a healthy disc, the outer wall is thick and tough. As disc degeneration starts to set in, this wall will start to thin and dry out, allowing for the possibility of cracks or tears. According to Dr. Kaixuan Liu, MD, PhD, chief surgeon at Atlantic Spine Center in Edison, N.J., "once that occurs the disc can herniate as the inner materials come through and places pressure on surrounding structures."
One cutting edge herniated disc treatment now under the microscope involves a single stem cell injection administered into a degenerative disc through the use of adult donor bone marrow stem cells. The hope is that these stem cells will help to regenerate deteriorating intervertebral discs, reversing damage to the spine.
"Most people who have a disc herniation do not need surgery because their symptoms tend to improve over time," says Dr. Liu. In fact, half will recover within one month, and the majority of others improve within six months. However, 10 percent will need advanced measures: more than 250,000 Americans a year undergo surgery to remove or repair a herniated disc.
"A decision to have surgery should consider results from diagnostic tests and physical examinations, and response to nonsurgical treatment for a herniated disc," says Dr. Liu. Other factors include a patient's age, overall health, the severity of symptoms, and what impact the symptoms have on quality of life (such as the inability to work). Loss of bladder or bowel functions caused by a herniated disc usually indicates a need for immediate surgery. According to Dr. Liu, for some patients surgery may be the best option for relief and prevention of loss of function by removing the protruded portion of the disc and providing more room for the nerve root.
Open back surgery used to be the only means to gain access to the damaged disc. That procedure typically takes three hours and requires a large incision in order to get to the tissues in and around the spinal column, followed by cutting and tearing of the muscles, tissues, and surrounding structure. It requires general anesthesia and an extensive recovery time.
"Modern techniques can take 75 minutes and allow for a smaller incision and less tissue manipulation," says Dr. Liu. Minimally invasive methods to treat a herniated disc use an endoscope, a telescope-like device that carries a small camera so the surgeon can see the area. No muscles are cut, so there is less post-operative pain.
There are three types of minimally invasive surgeries for a herniated disc:
Endoscopic Spine Surgery: This requires a tiny incision (usually less than a half-inch long) to insert the endoscope. There is no tissue removal and in most cases, the operation only requires only local anesthesia. Many patients are able to go home the same day, and typical recovery time is four to six weeks.
Endoscopic Discectomy: X-ray imaging and magnified video is used to guide an endoscopic probe into the damaged disc space to remove material that is causing pain. There is no bone removal, muscle damage, or large skin incisions.
Endoscopic Foraminotomy: This procedure is used to relieve pressure caused by compression from bone spurs, disc bulges, disc herniations, scar tissue, or excessive ligament development. Patients generally return to their normal activities in no time.
About Dr. Liu: Kaixuan Liu, M.D., Ph.D., is a renowned endoscopic spine surgeon and founder of Atlantic Spine Center, in Edison, New Jersey (http://www.atlanticspinecenter.com). Dr. Liu is certified by The American Board of Pain Medicine and The American Board of Anesthesiology, and is a member of The International Society for Advancement of Spine Surgery, The American Society of Interventional Pain Physicians (ASIPP), The American Academy of Pain Medicine (AAPM), The International Intradiscal Therapy Society (IITS), and The American Society of Anesthesiologists (ASA). He also serves as an international surgeon for The Spinal Foundations in England.