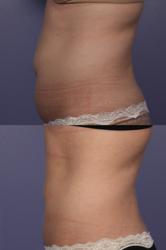 Seattle, WA (PRWEB) June 25, 2012
Whether it's the pooch that rolls over the waistline, excess arm flab or a few stubborn pounds around the thighs, removing unwanted fat is a desirable thing for most people. Non-invasive fat reduction is one of the hottest non-surgical treatments on the rise, and now curious patients can get the inside scoop on procedure options, costs and other considerations right from the comfort of their home. On Wednesday, June 27, at 5:15 p.m. PST, RealSelf.com will host a free "Doc Talk" online video chat providing critical information about different types of non-invasive fat removal, including CoolSculpting and Liposonix, among others. Participants can participate anonymously and reserve their spot by registering today at http://bit.ly/realselffatreduction.
During the 45-minute interactive session participants will get firsthand insight about non-invasive fat reduction procedures such as CoolSculpting, a non-surgical device that uses precisely controlled cooling to destroy fat cells, Exilis, a device that delivers radio frequency waves to melt fat, and more. Webinar presenter Dr. Grant Stevens, a plastic surgery expert and board-certified doctor, will discuss non-surgical fat reduction procedures for patients wishing to slim and contour curves without a lot of pain or post-procedure downtime. He will also discuss how the different procedures work, satisfaction rates, before and after images, average cost, average recovery time and other crucial insight.
Attendees should register for the webinar in advance at http://bit.ly/realselffatreduction. Plus, all attendees at the event will be entered to win a CLARO IPL Acne Treatment Device, valued at $195.
About RealSelf
RealSelf is the most visited online community for learning about and sharing information and results for medical-beauty treatments. Dedicated to helping people make suitable and empowered elective decisions, the site features consumer reviews, Worth It ratings, pricing information, and thousands of before and after photographs that collectively tell the 'real story.' The site also includes safety information and a Q&A with more than 4,000 board-certified doctors so visitors can interact with qualified experts and make safe decisions. RealSelf covers thousands of topics ranging from cosmetic dermatology to plastic surgery, cosmetic dentistry vision correction and more. http://www.realself.com.