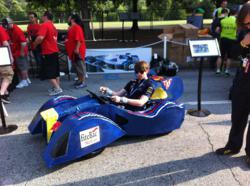 I am in the habit of using fiteBac everyday, as I appreciate clean hands, especially in public environments.
Marietta Ga (PRWEB) June 26, 2012
RedBull's annual 2012 Soapbox Race pre-qualified approximately 40 teams for the go-kart race. Winners were chosen from a combination of three scores in speed, creativity and showmanship. Although many karts were impressive and over-the-top, the title of first place was taken by SweetWater's flying fish mobile with its unique ability to retract its fins and pop wheelies.
fiteBac's 2012 team consisted of Keaton Wheeler, Ben Bowen, Stew Love, Jason Klug, and Travis Hudson. Mr. Wheeler drove the go-kart, as the team performed "an unveiling of the go-kart skit," each dressed in matching fiteBac™ SkinCare LLC race crew suits.
The fiteBac team designed and modeled their go-kart after a version of Red Bull's fictional prototype, the X1. The go-kart was technically sophisticated using Wheelborough front wheels with Go-Ped bearings, and trailer wheels with custom adapter plates for rear wheels. A hydraulic disk braking system allowed the car to stop, unlike some others at the end of the race. A multi-link steering setup was installed for better steering quality, and the model was equipped with a speedometer using an enclosed iPad dashboard and wifi hotspot courtesy of ArmorActive, Salt Lake City, Utah.
Red Bull's race was previously hosted in Atlanta in 2009, where Mr. Wheeler and team placed third. The team has announced a decision to compete in Red Bull's Soapbox 2015 Race in Atlanta.
fiteBac™ SkinCare LLC sponsored Mr. Wheeler, an employee of the biotechnology firm. His company provides solutions in heathcare settings for hand sanitizing. fiteBac has developed a revolutionary alcohol-free, water-free hand sanitizer that helps promote healthy skin. "I am in the habit of using fiteBac everyday, as I appreciate clean hands, especially in public environments. I am thankful, as the project would not have been possible without my company," says Mr. Wheeler.
"It was fiteBac™ SkinCare LLC's great pleasure to sponsor Keaton in the Red Bull competition, as we expected him to engineer a sophisticated car. He has a promising future with our company, and we were glad to be a sponsor," says Kirk Kimmerling, CEO. "We look forward to him competing in other events."
About fiteBac™ SkinCare, LLC and KHG: fiteBac SkinCare, LLC is a subsidiary company of Kimmerling Holdings Group, LLC ("KHG"), a Georgia-based biotech company that has developed an antimicrobial platform intellectual property technology. KHG was founded in 2009 by a cosmetic dentist Kirk Kimmerling, DDS and Dan Kearney. For more info on the dental practice of Kirk Kimmerling DDS, click here. The two set out to create products to "change the world, one product at a time." Kirk and Dan first targeted bacterial issues in dentistry, knowing that solving those problems would lead to dramatic improvements in oral health, and more importantly, systemic bodily health beginning with the Marietta, GA dentist. They engaged a team of highly accomplished chemists and scientists retired from Fortune 500 companies and researchers from major universities. In doing so, KHG has developed technology with several patents pending that has application well beyond dental materials, and has exciting potential in medical, plastic, composite, coating and other applications that are in various stages of development, some close to commercialization. fiteBac™ SkinCare Hand Softening Gel is the first product to be released under the fiteBac brand name.