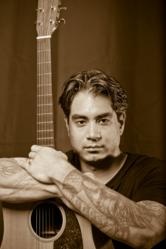 From your first lesson, I will have you playing. And, I will inspire you to keep on playing. The guitar is not an easy instrument to play; but if you aspire to be an accomplished player; I can get you there.
Fort Lauderdale, Florida (PRWEB) June 25, 2012
A June 18th, 2012 article in the Wall Street Journal, "Music Lessons May Benefit the Diaper Set" cites a new study that shows music lessons can help even the littlest infants—from 6 months and up. The Canadian research shows that 6-month olds who took 6 months of engaging, interactive music lessons developed increased musical understanding, improved language skills and more advanced brain development than babies in a control group taking just passive-listening music classes. The report was initially published in the Annals of the New York Academy of Sciences.
The study consisted of 34 babies who had weekly, hour-long music lessons at government-sponsored centers in Ontario from 2008 to 2009. Approximately half were assigned to more rigorous, teacher-led classes including singing, movement and playing percussion. The other half only listened to music while being allowed to play with toys.
After 6 months—and at the age of just 12 months—the active-music infant participants showed increased preferences for music conforming to Western musical structure. Meanwhile, the control group exhibited no particular musical preferences. Additionally, EEG recordings show significant differences in the babies' brain responses that were totally absent at 6 months. Those active-music infants had bigger, earlier brain responses to piano tones, were more socially advanced and easier to soothe, according to a parent survey.
Dyce Kimura, a lifelong musician, has always felt strongly about reaching out to young students—of any age—and in particular, absolute beginners. This report has left him inspired.
Dyce Kimura is a Fort Lauderdale electric guitar instructor and guitar teacher, as well as an in-demand Fort Lauderdale acoustic guitar instructor. Unlike many other teachers, Dyce is hip to all of the latest music & technology trends, breaking artists, and contemporary gear. (Before Dyce began teaching, he was a sought-after session player in Miami's studio scene, recording with scores of hip-hop, rock, blues and Christian artists—and is a nationally-recognized blues guitar authority.)
Dyce's Fort Lauderdale beginner guitar lessons are conducted in his state-of-the-art studio, convenient to Miami, Weston, and Fort Lauderdale. He also conducts Skype blues guitar lessons and guitar lessons for the absolute beginner, available to anyone across the globe. Interested students or parents may purchase lessons directly from Dyce.
For more information on giving the gift of Fort Lauderdale guitar lessons for your budding music lover, contact Dyce at (786) 457-3687 today.