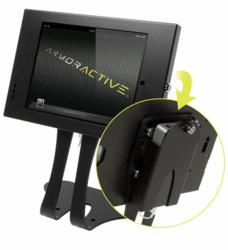 On arrival of the product, the Aveda project management team received a solution they could simply power on and set up for display.
Sandy, Utah (PRWEB) June 28, 2012
The same custom iPad displays, branded Gravity Charge, soon to be featured in Aveda retail stores nationwide are now available for purchase from ArmorActive's growing line of iPad security products. The Gravity Charge is the first tabletop product of its kind in the iPad security industry. Sporting battery backup compartments within the secure mounts; these iPad tabletop displays were designed to enhance the class of the cosmetic giant's environment with a sleek mobile set-up, while also running the iPad at full power all day.
Customers can expect to be treated with what Aveda, an Estee Lauder brand, is calling their store's "Launchpad." Aveda is using their Launchpad kiosks to feature products by Aveda, display industry trends, and prepare customers to get the most out of their shopping experience overall. Aveda contacted ArmorActive to assist them in finding a way to use the iPad's high-resolution display to present eye-catching promotional videos, while also allowing the hardware to blend with the Launchpad's aesthetic.
After consulting with Aveda, ArmorActive's research and development team went to work to develop an iPad mount prototype that would display and power the iPad without needing unsightly power cords or re-wiring within the stores. ArmorActive's team was also tasked with the challenge of creating a custom finish to encase the iPad so as not to draw attention away from the video content being displayed on the iPad.
In response to Aveda's needs, ArmorActive quickly engineered a complete solution, which included the custom designed Gravity Charge stand paired with a re-finished enclosure from ArmorActive's Evolve iPad case line. This case/mount combination successfully secure Aveda's iPads while also concealing the iPad's power supply, a rechargeable battery that can power an iPad displaying full video for 16-18 hours on a single charge. This solution will also free store managers from charging or switching out iPads during store hours, as well as protect customers from having to step over or even notice power cords. Stores nationwide have already begun the process of rolling out their new iPad digital signage by ArmorActive with minimal effort and cost.
Speaking on their goal of providing custom solutions, Ken Martin, ArmorActive's Business Development manager states "the design and prototype process was seamless. We took Aveda's vision and created a tangible product by providing them with an out-of-the-box prototype, including iPad & battery backup procurement, kitting solutions, and pre-loaded video content on the iPad. On arrival of the product, the Aveda project management team received a solution they could simply power on and set up for display."
Through Aveda's collaborative effort with ArmorActive, visitors to Aveda stores can look forward to experiencing the Aveda Launchpad with sleek iPad video displays. Customer's wishing to purchase the solution used in the Aveda stores visit the ArmorActive preferred sales website at iPadEnclosures.com.
About ArmorActive
Located in Utah's "Silicon Slopes," the fastest growing technology seat in the country, ArmorActive, Inc. is an enterprise-level tablet solutions company that manufactures hardware, builds software, and designs mobile apps to meet customers' needs worldwide. As a parent company of iPadEnclosures.com, ArmorActive seeks to meet the unique needs of each business, as the world transitions to using tablets as the technology standard.