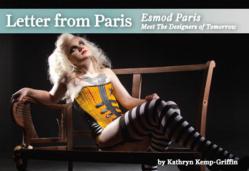 Given the quality and calibre presented, the future of the lingerie industry is set to flourish with the young talent bursting onto the scene
New York, NY (PRWEB) June 26, 2012
The Lingerie Journal debuts a new feature showcasing three upcoming designers from Esmod's lingerie program. The new feature is part of the Lingerie Journal's "Letter from Paris" series by Kathryn Kemp-Griffin.
The story features three lingerie designers and their end-of-year collections - Ilaria Neri with L'Effrontée Paris; Audrey Thabuy with A Fleur de Peau and Geneviève Eliard with L'Eclipse.
"At Esmod, there was a fusion of imagination, talent and skill in a spectacular parade of creativity and design. Students specializing in lingerie presented their end-of-year collections to a selected jury that included journalists, lingerie buyers and designers from Princesse Tam Tam, Chantelle, Lise Charmel and John Galliano," explained Griffin. "I was a judge and along with the others, we evaluated the design and technical components of each collection."
Esmod, founded in 1841, is the first fashion school established in France.
The new feature showcases each designer's collections with a selection of photos and Q&A's conducted by Griffin to give readers more insight into the designers' works. The photos and feature will also be shared on the Lingerie Journal's social media sites.
"Given the quality and calibre presented, the future of the lingerie industry is set to flourish with the young talent bursting onto the scene," said Griffin.
Readers can see the story by visiting: http://thelingeriejournal.com/letter-from-paris-esmod-paris-meet-the-designers-of-tomorrow/
"When Kathryn gave us details about this new entry to her Letter from Paris series, we were thrilled and couldn't wait to see the final piece," said Luis Paredes, publisher of the Lingerie Journal. "It's a great read with stunning imagery that our readers will love."
This entry is one of many Kathryn has written for the Lingerie Journal. Other interviews showcase designers like Fifi Chachnil, Pom Sevestre, Caroline Tannous and Elise Anderegg amongst other subjects.
About Kathryn Kemp-Griffin
Kathryn Kemp-Griffin is the founder of Paris Lingerie Tours and offers exclusive lingerie tours as an unusual alternative to the regular tourist attractions. She is also the founder of Pink Bra Bazaar, a lingerie charity dedicated to fighting breast cancer.
About The Lingerie Journal
The Lingerie Journal is the number one online lingerie trade publication in the United States reaching hundreds of consumers, buyers, lingerie retail store owners, independent lingerie designers, wholesale manufacturers, influential lingerie bloggers, and other intimate apparel professionals (as well as those in related fields) on a daily basis. Follow and interact with the Lingerie Journal on Twitter to learn more @lingeriejournal