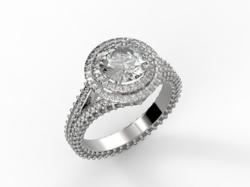 We take pride in the fact that we are able to provide for virtually every need our customers may have under one roof.
(PRWEB) June 29, 2012
Brilliance, one of the leading retailers of diamonds, engagement rings, and fine jewelry, is proud to announce its custom jewelry option of personalizing engagement rings according to a bride's tastes and aspiration for celebrity-calibre jewelry. This fine establishment, having been around for two decades, prides itself on having a diverse collection of rings, earrings, bracelets, pendants, and necklaces to match any style and budget. The special customization service derives inspiration from glossy magazines features of celebrity engagement rings. The Custom Jewelry Option is now available under the Custom Engagement Ring section.
Brilliance understands that these celebrity rings reflect the ultimate in trend and style, and women today look to them for inspiration. The company employs expertly-trained in-house jewelry designers to create pieces that meet clients' exact specifications. These designers use the latest in advanced CAD and CAM technology to help achieve the desired look of an engagement ring, perfectly suited to the client.
Only recently, Brilliance's Custom Jewelry Option completed a near-exact replica of Jennifer Hudson's engagement ring from Neil Lane for a client who is a huge fan of the Academy-award winning singer-actress. The result is a 5-carat center stone surrounded by two pave set diamond halos, and a split shank band encrusted with pave diamonds, at a fraction of the cost of the original.
Brilliance's director Jonathon Ohayon, describes the customization service as a way to "provide for virtually every need our customers may have under one roof. Providing quality products and services is our topmost priority as a company and we seek to satisfy our clients every step of the way, from designing the engagement ring of their dreams to the completion of the final product."
Each and every custom piece is covered by Brilliance's lifetime warranty so that even the smallest imperfection is subject to the company's re-evaluation and repair at no extra cost to the client.
Brilliance representatives are on hand to correspond with clients within 1-2 business days from the submission of any Custom Jewelry Option proposal. For real-time inquiries, a Live Chat option is available on the website.
Brilliance.com is an ecommerce site and is property of Brilliance LLC, a jewelry company based in Boynton Beach, Florida USA. Brilliance caters to both local and international customers and can be reached at the following numbers and email address:
Toll-Free: 866-737-0754
Phone: 561-369-5551
Fax: 866-465-5173
International: + 561-369-5551
Email: service(at)brilliance(dot)com