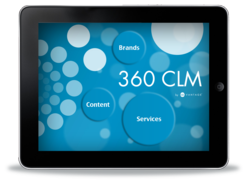 Chandler, AZ (PRWEB) June 27, 2012
360 Vantage®, a leader in cloud-based sales and marketing technology solutions for the Life Sciences industry, announced today its agreement with a specialty pharmaceutical company in the aesthetics market for its closed loop marketing app (360 CLM™) for the Apple® iPad®.
Under the agreement, 360 Vantage delivered its 360 CLM app as a cloud-based service by which the company's sales forces can now present approved marketing materials directly to prescribers via the Apple iPad. The tailored CLM system helps streamline the client's requirements for wireless content delivery, management and retraction of digital marketing assets including visual aids, package inserts, formulary data, demonstration videos and reprints.
With the 360 CLM system in place, sales reps are more responsive to individual prescriber needs. The company's marketing department also gets instant feedback on asset usage while maintaining strict compliance guidelines and reducing print production costs in the process.
The 360 CLM system was deployed to the company's sales reps, giving them the ability to instantly view and push approved content via email to a specific customer. The system also provides territory, regional and national level metrics for all assets in the system, helping marketing and management track detailed usage of the assets through the Salesforce.com report and dashboard engine so they can determine the effectiveness of each asset.
About 360 Vantage®
Established in 2005 and headquartered in Chandler, Arizona, 360 Vantage® is a leader in cloud-based mobile sales and marketing systems designed to solve the more complex front office challenges in Life Sciences, Healthcare and other industries. The company offers a full suite of professional and managed services in addition to its 360 CRM™, 360 CLM™, e-Learning and compliance solutions. Built on the Force.com platform and Salesforce.com, systems are designed to empower the mobile sales force an marketing teams with anytime, anywhere access to customer data and sales aids – from any device – giving the organization a distinct competitive advantage. The company CEO and founder, Mario Martinez II, is a Life Sciences sales and marketing technology veteran and can be found on the company blog, Twitter @360Vantage or @360CEO, LinkedIn, Google+ and Facebook. For more information, visit http://www.360vantage.com.