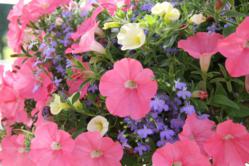 Mid-summer heat can be as uncomfortable for plants as it is for people. A few simple tips can keep a garden cool.
Lebanon, PA (PRWEB) June 27, 2012
Mid-summer heat can be as uncomfortable for plants as it is for people. Keep flowers, vegetables, trees and shrubs cool and comfortable by watering them deeply once or twice each week. When possible, water in the morning and concentrate the moisture right at soil level. For practical seasonal notes, see the "Garden & Landscape Tips" section of preen.com:

If tomatoes display a dark, leathery spot on the bottom of the fruit, it is likely "blossom end rot." This usually indicates that while the fruit was forming, the plant was stressed by fluctuations in soil moisture. To prevent future damage, water deeply and mulch the soil surface to keep the root zone consistently moist.
Petunias and calibrachoa often look scraggly by mid-summer. Use scissors to cut them back, reducing the length of their stems by half. This will stimulate new growth and will also keep the plants looking neater. To maintain good flower production, fertilize all flowering annuals weekly right into September.
Refresh weed prevention now to stop late-summer weeds before they happen. Many people think most weeds sprout in spring but just as many sprout later in the season. Reapply Preen Garden Weed Preventer around shrubs and perennials to keep new weed seeds from germinating.
Now is the time to plant bush beans, cucumbers, carrots and beets for harvest in September and October. Other fall crops that may be planted directly from seed include broccoli, kale and cabbage. Once the young plants are 2 to 3-inches tall, apply Organic Preen vegetable garden weed preventer to minimize weeds in beds.
Most types of bearded iris benefit from being divided every couple years. Overcrowded plants produce fewer flowers and are more susceptible to disease and insect damage. For best results, bearded iris should be divided during their dormant period, from mid-July through mid-September. Dig up the entire plant and discard any small or diseased rhizomes. Replant, making sure the top of the rhizome is at or just above the soil surface.