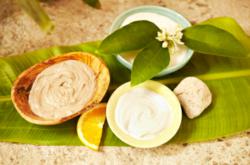 San Francisco, CA. (PRWEB) June 27, 2012
Zion Health;http://www.zionhealth.net today announces the release of an innovative natural clay skin care remedy; Adama Moisture Intense Lotions especially formulated for dry skin are now available at Dorothy Lane Markets in Oakwood, Washington Square and Springboro, Ohio.
Adama Minerals Moisture Intense Lotions contain healing and detoxifying ingredients especially formulated for dry skin. Adama lotions contain more than 60 trace minerals derived from a nutrient rich clay called Kanwa or scientifically termed Calcium Montmorillonite clay. Kanwa clay is known to absorb skin toxins, enhance cellular energy, and add nutrients to dehydrated skin.
Dry skin can weaken the epidermal barrier, exposing it to immunogens, resulting in inflammatory dermatitis. Adama Minerals moisture intense lotions contain soothing botanical extracts of chamomile and aloe vera that help reduce inflammation and protect skin. Chamomile flower extracts have been widely used in compresses, soaps and lotions to treat rashes and skin irritations. Flavonoids present in chamomile have been shown to treat dermatitis-related inflammation by halting the release of histamine and minimizing itching, swelling and redness.
Adama Minerals Moisture Intense Lotions are enriched with yarrow root. Yarrow root is an ancient folk remedy used to soothe and moisturize skin. Its strong anti-inflammatory and antiseptic actions can be attributed to the presence of alkaloids, coumarins, flavonoids and salicylic acid. Yarrow has been shown to heal cuts and abrasions and improve various inflammatory skin conditions, including eczema. Yarrow root also contains silica, a critical mineral for collagen production and skin elasticity.
Hydrating, mineral-rich Adama Minerals moisture intense lotions are available for consumers at three Dorothy Lane Market Health Food Store locations in Ohio. Zion Health's line of natural, mineral-rich moisturizers include Moisture Intense Lotions in 4 unique scents of vanilla orange, pink grapefruit, blue orchid and lavender.
Zion Health Products are available online at http://www.kanwaminerals.com and Health food Markets and Co-ops throughout the U.S. and Canada. Zion provides its consumers with pure skin and body care products that are 100% vegan, free of parabens, aluminum and sulfates and formulated using certified organic ingredients whenever possible. For more information on Zion Health products, go to: http://www.zionhealth.net.
# # #