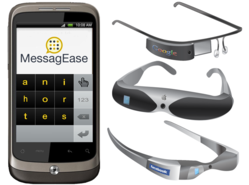 Designed & optimized for touch screens, MessagEase is faster and more accurate than QWERTY.
San Francisco, CA (PRWEB) June 26, 2012
Exideas, the developer of advanced mobile UI technologies, today announced an enhanced version of its MessagEase Keyboard suitable for Google Glass Project, now available as a free download from Google Play Store.
Recently, Google announced its vision of the UI of the future as Google Glass Project: Using an eyewear display, users fetch data or upload pictures and messages. However, in the video released by Google, user interaction with Google Glass seems to be mediated mostly through voice commands.
"Although voice recognition has improved greatly, its use in many situations is impractical and undesirable," said Saied Nesbat, Ph.D., Founder and President of Exideas. "For example, you may not wish to use voice commands in a classroom, during a meeting, in a movie theater, or while attending a live performance. In these cases, silent interaction with Google Glass requires a keyboard, and for this purpose our MessagEase keyboard has unrivalled advantages over other keyboards."
MessagEase is an innovative nine-key virtual keyboard designed for a broad range of mobile devices. But its fewer, larger keys make MessagEase a perfect match for Google Glass, for which the keyboard needs to be operated mostly with one hand, on the go. Designed for touch screens and optimized to minimize finger reach, MessagEase's innovative letter assignment is scientifically optimized using letter frequency and di-gram data, making it very fast and accurate. MessagEase keyboard is enjoying over 400,000 downloads. Currently many MessagEase users type at 50+ Words Per Minute; the top record holder clocks at 63 WPM!
To ease the learning curve, Exideas has released MessagEase Game, also available from Google Play. Furthermore, MessagEase's shape, size and color can be customized to match any device and taste. Its Android version is currently available for nine languages. MessagEase is also available for Apple iOS (via the iTunes App Store) and Windows. For videos demo and a full list of features, visit http://www.exideas.com
About Exideas: Exideas is the leading developer of user interface technologies to accelerate text input on mobile touchscreen devices. Inventor of the world's fastest mobile touch screen keyboard, MessagEase, Exideas' revolutionary compact nine-key design is optimized specifically for a single finger touch screen usage to reduce errors and accelerate text input speeds to over 60 words per minute. Led by Saied Nesbat, Ph.D, President and CEO, this Silicon Valley start-up's patented designs currently have hundreds of thousands of dedicated mobile phone users worldwide. For more information, visit http://www.exideas.com.