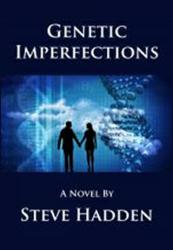 ...a story of tragedy, greed, redemption and love, uniquely packaged in the thriller genre.
Dallas, TX (PRWEB) June 27, 2012
What would happen if a groundbreaking advance in medicine fell into the hands of a desperate Wall Street executive, hell-bent on taking the company public and turning a huge profit… no matter the cost.
In his newest novel, "Genetic Imperfections", author Steve Hadden deftly guides readers through the high-stakes world of pharmaceutical development while telling the story of a father turned bitter over the loss of his young son to cancer. Rexen Labs is sitting on a gold mine. After years of development, the family-owned pharmaceutical company is finally prepared to begin marketing the biggest drug breakthrough since penicillin, a genetic cure for cancer. With Rexen Labs ready to go public, billions of dollars—and a ten-year-old's life—hang in the balance.
Asked why he wrote "Genetic Imperfections", Hadden said, "I'm intrigued by how the complexity of the human genome stands in the way of the first genetic cure for cancer and how corporate greed can transform the most well intended people."
The thriller opens fifteen years ago, after David Wellington abandoned his lucrative banking career and joined Rexsen Labs to save his young son's life. But despite his sacrifices and prayers, he helplessly watches him die. On that day his heart hardens and he embarks on a path of cynicism, materialism and self-indulgence. Now, propelled by the pending FDA approval of CGT, the first genetic cure for the leukemia that killed his son, he's on the verge of becoming Newport Beach's newest billionaire.
But as Wellington watches his life crumble around him and the cure become a curse, he finds himself at rock-bottom for the second time. Trapped between the authorities and the company he helped build, he risks everything to give meaning to his second chance at life and his only chance for love.
"Genetic Imperfections" is a story of tragedy, greed, redemption and love, uniquely packaged in the thriller genre. It is available through Amazon, Kindle, Barnes and Noble, Nook, Apple's iBooks, Smashwords, Diesel and Kobo. Visit SteveHadden.com for a synopsis and additional information.
Keep an eye out for Hadden's next book, "Swimming Monkeys", set to be released later in the summer. A cross between Jurassic Park and The Da Vinci Code, Swimming Monkeys is a powerful coming-of-age thriller that examines the on-going struggle between science and religion.
About Steve Hadden
Steve Hadden is the author of "The Sunset Conspiracy", "Genetic Imperfections" and The "Swimming Monkeys" Trilogy. Steve was born in Ohio and has lived across the U.S. including stops in Maryland, Indiana, Pennsylvania, Oklahoma, Wyoming, California, Texas, Connecticut and Colorado. He's traveled around the world and uses his experience and curiosity about the larger issues we face to bring his thrillers to life. Steve lives in Texas with his wife, CJ, and two Labrador retrievers, Emma and Abby. Visit his website at http://www.stevehadden.com.