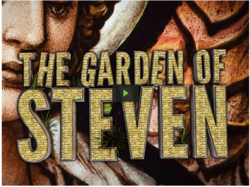 The ultimate goal is to entertain, so we're going for that up front. An evangelical telethon seemed like an entertaining way to get our beg on, without all the weepy."
-Ian Fay, Producer
Washington, DC (PRWEB) June 27, 2012
The telethons of your youth are back in all their glitz and glamour.
But in the place of Milton Berle and Jerry Lewis are Hosts Philip Whiteness (Chris Keener) and Majorie McMichael (Meghan Keener). Their mission: to dance, to sing, and to guilt you into Kickstarting The Garden of Steven. A group of DC filmmakers have a comedy they know will win over souls at Sundance film festival, and are raising funds in a 30-day campaign to fund their film shoot.
The Garden of Steven tells the story of Steven Castle, a wayward missionary caught in an endless spiral of sin and repentance. Today will be different however; Steven's just arrived in Guatemala and he's hell bent on getting holy. The comedy highlights a missionary's struggle between religion and spirituality, and will center around an orphanage in Guatemala where some of the team used to work. There, the veteran team will hire a local crew, and produce this short comedy on a shoestring budget.
Their promo fundraiser "Get the Guilt Out!" spoofs both telethons and "Kickstarter guilt," the emerging phenomenon in which artists and media producers encourage friends and relatives to help them fund their projects. In the course of the comedy, the team from Goldenbear also manage to showcase their talents and previous work as serious filmmakers for such outlets as National Geographic and the Discovery Channel.
In doing research for the film, co-director Chris Keener found himself in a 'Youtube hole' watching old evangelistic telethons, and thought that format would be the perfect vehicle for the fundraising campaign. Says Rob Shore, a producer on the film: "We hoped to create a public access likeness, and ended up scaring ourselves a bit with how close we came to the real thing. We also decided to incorporate our other work to let people know that we have the chops to make it look as good or as bad as we want."
In other words, according to producer Ian Fay: "We didn't want to make some weepy, beggy kickstarter campaign to then turn around and ask for cash to make a comedy. The ultimate goal is to entertain, so we're going for that up front. An evangelical telethon seemed like an entertaining way to get our beg on without all the weepy."
The video can be found at the following link: http://www.kickstarter.com/projects/225025878/the-garden-of-steven. The team is halfway to their goal, but only has until June 7th to raise the money they need. If the full amount isn't raised, any and all pledges are returned uncollected. Says Keener, "This ensures that only the best projects are funded and people really feel like they are part of something. So get out your guilt."