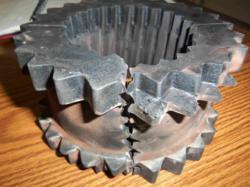 Every alignment presents its own unique challenges.
Richmond, VA (PRWEB) June 28, 2012
In an effort to continually deliver valuable content to anyone responsible for precise alignment of rotating machine shafts, VibrAlign recently redesigned its popular alignment blog. The redesign made the information in the blog more accessible to users by categorizing and tagging the posts. Readers can now see how many comments have been added to each post right on the home page. In addition, it is easier to subscribe and receive email alerts of new posts to the blog.
VibrAlign is committed to helping businesses use their resources more efficiently and effectively by helping their machinery maintenance experts perform shaft alignments as precisely and accurately as possible. For this reason the company's training team, four experts with more than 60 years of alignment experience, regularly post to the alignment blog, chronicling in detail alignment issues encountered in the field, and how these issues were solved.
In addition to the trainers, other VibrAlign personnel contribute to the blog. For example, Steve Matthews, Eastern Region Sales Manager, wrote a post earlier this month entitled "Shaft Alignment With A Fluid Coupling."
Even customers have written in the blog about their alignment experiences. Chris Troutt, Reliability Analyst at BRI in St. Louis, recently contributed "Persistence Pays in Shaft Alignment." The post detailed the challenges he unexpectedly encountered when aligning a 3600 RPM skid-mounted end-suction ANSI pump. The photograph shows what ultimately explained why this was no ordinary alignment. The coupling was so seriously misaligned it had worn off the original teeth and had cut new ones 3/8″ below where they should have been.
According to Patrick Lawrence, VibrAlign Trainer, "When we train on site, we always get the class out in the plant working on real alignments. This provides great real world experience, but I have to tell you, it also keeps us trainers on our toes. Every alignment presents its own unique challenges."
This kind of hands on experience is what led to VibrAlign's invention of a new method of correcting misalignment – the Verti-Zontal Compound Move® – which allows for the correct vertical and horizontal adjustments to be made together, saving valuable time and ensuring accuracy the first time around.
VibrAlign started in 1983 as a vibration and alignment service organization and later became a distributor of equipment which, appropriately, equipped our team to better serve. VibrAlign is America's exclusive distributor of Fixturlaser® – the manufacturer of the only touch screen tool available with 3D animation and sensor safeguard against sunlight. For thirty years now, VibrAlign has been growing across the country. Today we proudly operate out of local offices in every major region.