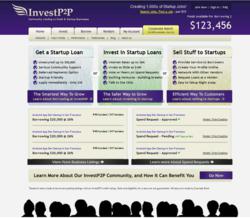 InvestP2P may become the premier Crowdfunding Portal for Startups once it's scooped up by a smart entrepreneur.
San Diego, CA (PRWEB) June 28, 2012
"I just can't go through it again, but I'd hate to see it go to waste" said Mark Kanter, co-founder of Markay Company, proud provider of http://WinMyCoins.com and owner of the domain InvestP2P.com and the underlying Crowdfunding software he had built. 'Crowdfunding', (aka Peer to Peer Lending or P2P Lending for short), is a way for lots of people to give or invest small amounts of money that aggregate into a big amount lent to or invested in a single person or business.
"I had the site built 2 years ago on a lightning fast and nimble platform by 4 top notch developers and designers and we were ready to launch and help Startups get the funding they needed to build their businesses, create numerous jobs and fix our economy, but we hit a wall with the SEC. The audited financials we sent them were not from an authorized SEC accounting firm. I wish they would have told us that months before we wasted so much time and money on our own accounting firm and before they took our application fees and our sapped our momentum. So I had to put it on the back burner."
In the interim, Mr Kanter launched http://WinMyCoins.com, a fun online game where people can make their own online coins for others to flip and win if they call heads or tails right. People can commemorate pets, places, things, or whatever's important to them; and businesses can promote their products and services in an entirely new way, such that, as Mr Kanter believes, customers will receive merchant promotions in a greater light than any other type of promotion they've ever received before. WinMyCoins is giving away a $1,000 coin each month in addition to the numerous rewards local and national merchants are providing on their own custom coins people can win on the site.
"I had to make a decision when the new JOBS Act law came out. The law removes the wall we hit at the SEC," said Kanter "As much as I want to help fix the economy, I'm an idea person and I don't have the patience to wait for the SEC to make their Funding Portal Exemption Rules within the 270 days allotted by the JOBS act, especially after having gone through a gut-wrenching wait on our SEC S1 application a few years back. It was too painful, emotionally charged and it drained me."
However, Mr. Kanter's timing for the sale of his social Startup Investment platform, InvestP2P.com couldn't come at a better time for those excited about the potential this new law brings. You may have seen the success of other Peer to Peer Lending sites such as LendingClub.com, Kiva.com and Kickstarter.com. Well, the InvestP2P.com platform was built to focus solely on Startups. It has all the bells and whistles of a LendingClub and a lot more. It has social networking tools including ways for investors to talk directly to the CEO's and for investors to have a say in how the dollars are spent by the CEO. Not to mention ways for investors to easily promote the businesses they invested in.
"It truly is state of the art," says Kanter. "It has everything the people want and more. In addition, I am willing to stay on in some capacity to help customize it even further if desired, in exchange for some kind of compensation and ongoing performance bonus. I'm negotiable I am in San Diego, but willing to fly to a buyer's location and provide a hands on demo and look at the code if they foot the bill for the trip."
Markay Company will use the money from the sale to pay off debts and continue to fund the organic growth of WinMyCoins. Who knows, maybe Markay Company will be a business InvestP2P members can eventually invest in (provided some smart entrepreneur out there scoops this up and runs with it). Now that would be sweet!
Mr Kanter can be reached at 866.936.3856 Ext 101
You can see the $250,000 ebay listing at http://cgi.ebay.com/ws/eBayISAPI.dll?ViewItem&item=320933833593&ssPageName=ADME:L:LCA:US:1123#ht_500wt_1202