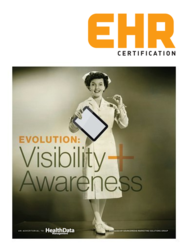 The vision of iPatientCare has been "Better Outcomes, Lower Costs, Meaningfully"
Woodbridge, New Jersey (PRWEB) June 27, 2012
iPatientCare, Inc., a pioneer in mHealth and cloud based ambulatory EHR, integrated Practice Management and Patient Portal solutions was covered by Health Data Management as part of its special May supplement on EHR Certification Evolution: Visibility and Awareness.
iPatientCare has emerged as one of the visionaries of the US healthcare IT products and solutions market place. It has been certified as ONC-ATCB 2011/2012 Complete EHR and looks forward to certifying itself for the Meaningful Use Stage 2. "ONC certification program has been promoting standards, encouraging interoperability, and stimulating innovation. We have a vision for the technology that not only satisfies such industry de-facto standards but go beyond those in terms of usability and customer satisfaction", according to Kedar Mehta, CTO, iPatientCare. He further added, "This vision is ably articulated by our CEO and is very precisely covered by the Health Data Management as part of its special supplement on EHR Certification Evolution."
The vision of iPatientCare has been "Better Outcomes, Lower Costs, Meaningfully", and the talented engineers, physicians, clinicians, and professional implementation specialists at iPatientCare have been working with the grand vision of providing coordinated care that enables improved outcomes at the lowest possible costs. "iPatientCare's clients benefit from increased revenues accrued out of seeing more patients per day, automatically captured charges, streamlined workflow, increased efficiencies, and integrated systems that eliminate repetitive tasks. iPatientCare's integrated Practice Management System helps practices through efficient Revenue Cycle Management, submit cleaner claims through CCI edits, denial management, and many pro-active A/R alerts.", said Udayan Mandavia, CEO, iPatientCare as part of his interview.
Click here to view the digital copy of Health Data Management's special May supplement on EHR Certification Evolution: Visibility and Awareness.
Click here to download the copy as PDF file.
About iPatientCare
iPatientCare, Inc. is a privately held medical informatics company based at Woodbridge, New Jersey. The company is known for its pioneering contribution to mHealth and Cloud based unified product suite that include Electronic Health/Medical Record and integrated Practice Management/Billing System, Patient Portal/PHR, Health Information Exchange (HIE), and mobile point-of-care solutions that serve the ambulatory, acute/sub acute, emergency and home health market segments. iPatientCare EHR was among the first to be certified by CCHIT in July 2006 and is currently CCHIT 2011 fully certified and ONC-ATCB 2011/2012 Certified Complete EHR for Meaningful Use. The company has won numerous awards for its EHR technology and is recognized as an innovator in the field, being a pioneer to offer an EHR technology on a handheld device, an innovative First Responder technology to the US Army for its Theatre Medical Information System, the first to offer a Cloud based EHR product. iPatientCare is recognized as one of the best EHR and Integrated PM System for small and medium sized physicians' offices; has been awarded most number of industry Awards; and has been recognized as a preferred/MU partner by numerous Regional Extension Centers (REC), hospitals/health systems, and academies. Visit http://www.iPatientCare.com for more information.
Contact:
iPatientCare, Inc.
One Woodbridge Center, Suite 812, Woodbridge, New Jersey 07095
Phone: 800-741-0981 | Fax: 732.676.7667 | Email: info(at)ipatientcare(dot)com