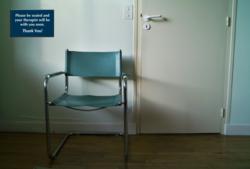 "Some messages need to be in writing to be efficiently conveyed," Daniel Male, Manager at MyDoorSign.com said. "We give a range of options so you have the best sign for your workplace."
Brooklyn, NY (PRWEB) June 27, 2012
MyDoorSign.com, the web's most trusted source of engraved signs for doors, offices, and property, launches the release of a new line of Engraved Signs. The signs use an elegant and clear type to add a sophisticated look to all messages posted.
Busy offices like doctors and therapists are frequented by many people each day and some information should be uniformly given. These Engraved Room Signs convey messages such as "We Accept Assignment for All Major Insurance Companies" that are absolutely vital to the fluid functioning of these workplaces. Given the high volume of clientele, it is important that signs be clear and instructive as well as attractively fitting in the décor of the office.
Signs maintain efficiency by posting a notice that there is no re-entry or reminding patrons not to prop open doors. Signs like these can save precious time and keep employees from needing to reiterate instructions to each client. By using Engraved Room Signs, business owners ensure that premises remain efficiently run and customers are given instruction politely.
The signs are small but eye-catching with white lettering on and either red or black background. Choose from an array of messages that range from highly specific to useful in multiple situations. Present offices in the best possible light by bolstering work environments with Engraved Room Signs.
"Some messages need to be in writing to be efficiently conveyed," Daniel Male, Manager at MyDoorSign.com said. "We give a range of options so you have the best sign for your workplace." All orders include foam adhesive strips or the option to mount them with a sign frame, also available at MyDoorSign, for a more professional look.
All of MyDoorSign's products are long-lasting and durable. The signs are equipped to handle different workplace conditions to ensure a cost efficient way to communicate messages. MyDoorSign also offers many lines of customized signs for offices looking to brand their logo or display specific messages.
For more information, visit http://www.mydoorsign.com/Door-Signs/In-Stock-Engraved-Signs.aspx.
About MyDoorSign.com
MyDoorSign is the web's largest source for door signs. The web store offers more than 10000 different in stock door signs and over 300 easy to complete custom door signs templates.
About SmartSign
SmartSign is one of America's fastest growing e-commerce companies and parent of MyDoorSign.com, MyParkingSign.com, as well as more than 50 other sites. The company manufactures and distributes a wide range of signs, tags, mats, and labels. In the past, many consumers have found it hard to find, hard to design and hard to order signs with the right message. By positioning "signs as solutions," SmartSign has taken an entirely different approach. Through highly targeted, content-rich, and authoritative retail sites, the company provides specific solutions to specific problems, such as providing the right door sign. SmartSign is widely recognized for its quality construction; its signs come with a 3M® warranty and outlast fast-fading, ink-jet signs. Other SmartSign advantages include fast and free shipping, the Web's largest range of designs, and a best-price guarantee.