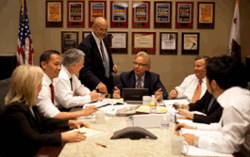 Twenty years ago, I never saw a Rotweiller or Pitbull case, but we now have a much higher percentage of these more aggressive dogs in residential areas."
Newport Beach, CA (PRWEB) June 27, 2012
According to the San Diego County Sheriff's Department, an eight-month-old infant was attacked and killed by a pit-bull on Thursday June 14th. Tyzhel Latella McWilliams, the infant victim, died at 6:06p.m., not long after being transported to Rady Children's Hospital.
Three Pitbulls were initially suspected and apprehended by animal control authorities, but an investigation of the incident revealed only one of the Pitbulls to have been involved in the attack.
The Chula Vista Animal Control confirmed with NBC 7 that the Pitbull found responsible has been put to death. The other two Pitbulls have been returned home.
Studies confirm that some dogs are more likely to attack humans than others. The Clifton study provides clarification as to the types of breeds that pose a significant threat.
According to the Clifton study, Presa Canaarios, Rottweilers, Pit bulls and their mixes accounted for 65% of deaths perpetrated by canines between 1982 and 2006.
The Center for Disease Control and Prevention (CDC) has found that 4.5 million people suffer dog bites every year and 800,000 Americans seek out medical attention for dog attacks on a yearly basis. Of those injured, 386,000 require emergency services and 16 lose their lives.
Children are especially susceptible to dog bite injuries. The rate of dog attack injuries is highest amongst children between the ages of five and nine years old.
John Bisnar, an experienced California dog bite lawyer, has been assisting injury victims in California since 1978. Mr. Bisnar has seen first-hand the types of devastation that victims undergo following tragic instances such as this and has been providing the public dog bite resources to help avoid future incidences.
"Our numbers show us that nearly 75% of the clients that we represent suffer injuries due to Pitbulls, Rotweillers or a mix of one of these breeds. Twenty years ago, I never saw a Rotweiller or Pitbull case, but we now have a much higher percentage of these more aggressive dogs in residential areas."
"Pet owners are inclined to believe that their dog is different, yet there are numerous cases of owners or their children being seriously injured or killed by their own Pitbull. We want the public to know that these aggressive breeds should be considered dangerous. Be very careful with Pitbulls around children, even your own Pitbull, says John Bisnar.
About: Bisnar | Chase, Dog Bite Attorneys, Orange County, CA
Bisnar | Chase is a Newport Beach, California based dog attack law firm that has developed a reputation for their professionalism and consistent outstanding results achieved on behalf of their clients. More than 6,000 Californians have laced their trust in John Bisnar and Brian Chase to assist and advise them. In more than 97% of those cases, Bisnar | Chase clients have received compensation.
In a matter of a serious-injury dog attack, contact a Bisnar | Chase Orange County dog bite lawyer at 800-561-4887 or visit their website at http://www.bestattorney.com.