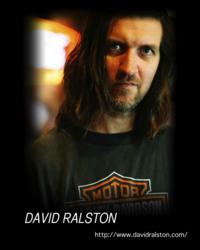 "Hard and Bluesy all wrapped up, "I Don't Care" is a consistent masterpiece from the very first track" - Hard Rock Magazine Japan
Framingham, MA (PRWEB) June 27, 2012
"Hard and Bluesy all wrapped up, "I Don't Care" is a consistent masterpiece from the very first track, it just jumps at you and takes hold; you'll listen to each track through and through...Difficult to make any comparisons, Dave Ralston is a work in and of himself, and those that know him well, wouldn't have expected anything less." - Rock Hard Magazine Japan
David Ralston has steadily, chapter by chapter, album by album, created much more than just great music and "I Don't Care," Ralston's 8th album, is no exception. Ralston's work as a substance abuse counselor with the Marine Corps in Japan has intertwined with his music career and his residence in Japan has opened up a unique international audience that is rapidly growing. The songs flow out of him, as do the gritty guitar licks and the inspired vocal growl inflections. Delaney Bramlett came out of retirement for the first and only time since his heyday with Clapton to produce and mentor Ralston and introduce him to that distinctive open, soul-purging passion.
The listener is drawn in by variety of sounds and emotions within "I Don't Care." Ralston's influences, clearly rooted American rock with allusions to artists like, The Allman Brothers, Danzig, Sam Cooke, The Rolling Stones, and Muddy Waters are present throughout. Songs such as "Today's Got Me Down" and "How Do I Stop the Pain" have a slower more ballad-type feel with strong bluesy undercurrents, but the more upbeat tracks like "Laugh to Keep From Crying" that ends with an energetic and lively power jam, and "Johnny Cash Song" that reveal hints of funk inspirations. "Goin Down to Die" is an edgier counter to these tracks, with a sinister bass line that imposes that heavier feel, yet even with all these differences from track to track, Ralston's distinctive open and soul-purging passion remains constant. There is a refreshing cohesion to I Don't Care that keeps the listener enthralled as the album flows from beginning to end.
"I Don't Care" was produced, recorded, mixed and mastered by Thom Hiller. "This was my most ambitious record to date. It was both the heaviest and the bluesiest by far," says Ralston, and it's clear that this ambition and energy was captured in the 4 short days it took to record the album.
You can learn more about David Ralston and see his latest show dates on his website http://www.davidralston.com.
If you have any questions, comments or would like to set up an interview don't hesitate to contact Melissa(at)powderfingerpromo[dot]com.