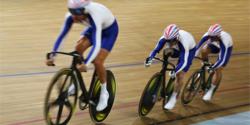 It's lovely to finally get the nod and know that I've made the team for London 2012
(PRWEB) June 27, 2012
Britain will be hoping to maintain their dominance in road and track cycling after ParalympicsGB named seven defending champions in its squad for London 2012.
GB topped cycling's medals table in 2008 with an incredible 17 gold medals, 12 more than their nearest rivals the USA, contributing 40% of the country's total haul of 42.
And multiple Beijing gold medallists Darren Kenny, Sarah Storey, Jody Cundy, Anthony Kappes, David Stoner and Aileen McGlynn will once again compete for their country alongside defending handcycling time trial champion Rachel Morris.
Kenny was Great Britain's outstanding athlete in 2008, winning an impressive four golds and a silver while former Paralympic champion swimmers Storey and Cundy claimed two top-podium finishes each alongside Kappes, Stoner and McGlynn.
"It's lovely to finally get the nod and know that I've made the team for London 2012," said Kenny, 42, who will be competing in his third Paralympic Games.
"Everyone on the team, riders and staff, have worked so hard to create a team to make the nation proud. To be chosen to be part of that team is a huge honour."
Storey, who won five golds as a swimmer, will be competing in her sixth Paralympics in total and her third as a cyclist.
"It has been a long time coming and one of the latest announcements I think I have been involved with," said Storey, who was one of two disabled athletes who competed for England in the 2010 Commonwealth Games.
"Training and racing has been all focused on the end of August and the Paralympic Games and being at home makes it extra exciting. I am looking forward to getting out there and racing now!"
The ParalympicsGB squad will also include six cyclists who will make their debuts in London: Jon-Allan Butterworth, Mark Colbourne, Neil Fachie, Shawn McKeown, Lora Turnham and hand-cyclist Karen Darke.
Butterworth (C5 1km time trial) and Colbourne (C1 3km pursuit) won golds at the World Track Championships in Los Angeles in February, with Fachie and pilot Barney Storey behind Kappes and Craig McLean in the Men's blind 1km time trial tandem.
Former solider Butterworth, 26, lost his arm in Iraq in August 2007 in a rocket attack before discovering cycling through the Battle Back scheme and representing his country.
"I've been on an amazing journey, I have lots of people to thank, and I know they'll be supporting me in London at my first Games," he said.
Cundy will be representing GB for the fifth time in London, the second as a cyclist.
He said: "I can't wait to defend my Paralympic titles and race in front of a partisan crowd as part of the strongest team that ParalympicsGB has ever sent to a Paralympic Games. Bring on London!"
Beijing C3 1km time trial silver medallist Rik Waddon is expected to be named in the sprint squad having made a drastic change to his training regime after missing the para-cycling worlds in Los Angeles.
Gareth Sheppard, performance manager for the British para-cycling team, is confident his cyclists can deliver in front of a home crowd.
"It'll be tough trying to equal 17 gold medals and our athletes realise the expectation on their shoulders," he said.
"Having the whole of the country behind them will really help us and we are confident of delivering some world-class performances."
The addition of the cycling squad takes the number of ParalympicsGB athletes to 220 as well as two sighted goalkeepers and four pilot riders.
The squads for rowing, men's goalball, equestrian and athletics are yet to be announced.
Men
Jon Allan Butterworth (track)
Mark Colborne (track and road)
Jody Cundy (track)
Neil Fachie with Barney Storey (track)
Anthony Kappes with Craig Maclean (track and road)
Darren Kenny (track and road)
Shaun McKeown (track)
David Stone (road)
Rik Waddon (track)
Women
Karen Darke (road)Aileen McGlynn with Helen Scott (track)Rachel Morris (road) Sarah Storey (track and road)
Lora Turnham with Fiona Duncan (track)

For all your latest news ahead of the 2012 Paralympics, follow @C4Paralympics on Twitter and like the C4Paralympics Facebook page.