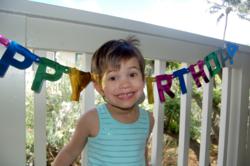 "The team of people at Six Flags, from park president Dale Kaetzel on down, have been incredibly supportive of this event. We are delighted to be able to reach our 6,000th wish this year!" says Make-A-Wish Executive Director Patricia Wilson.
San Francisco, CA (PRWEB) June 28, 2012
It took eighteen years for Make-A-Wish Greater Bay Area to grant its first 3,000 wishes, but just ten years to double that number to 6,000 wishes. This occasion will be marked on Saturday June 30th by inviting all 6,000 past and present wish children and their families to a day of fun and celebration at Six Flags Discovery Kingdom in Vallejo. The event will feature an hour of exclusive park access for wish children and their guests, a private dolphin show for Make-A-Wish where the 6,000th wish child will be introduced, and wish children stationed around the park, helping operate rides and assist staff in running the park.
"The team of people at Six Flags, from park president Dale Kaetzel on down, have been incredibly supportive of this event. We are delighted to be able to reach our 6,000th wish this year and we are already looking forward to reaching our 7,000th wish!" says Make-A-Wish executive director Patricia Wilson.
Three year old Avery Henderson from Los Altos will be the event's guest of honor as the 6,000th wish child. Avery has been finished with treatments for Wilm's tumor for nine months, and it gives her tons of optimism. "I'm a big girl now because I'm 3 and I don't have cancer!" says Avery with glee. Every day, she talks about her wish to swim with the dolphins and build sand castles in San Diego—which is what she will do when she has her wish next month.
Ten years ago, in 2002, Matthew Coe was the 3,000th wish recipient. Then five years old, the Benicia boy had a serious heart defect called a single ventricle that required several surgeries. After the final surgery, he was granted his wish to visit his uncle in New York.
Now 14 and entering high school, Matthew continues to take daily medication and has his heart tested yearly. But he can still enjoy playing golf, flag football and basketball. "Matthew continues to have a very special appreciation for having been granted his wish. He has repeatedly written about it for school assignments when he is asked about the most significant events in his life," say his parents, Cathy and Greg.
Four years later, in 2006, we passed our next milestone—4,000 wishes. Nine year old Chris Laub from Tiburon was our 4,000th wish recipient. The active little leaguer had been diagnosed with a rare form of leukemia the previous year. His wish was to attend the 2007 MLB All-Star Game.
San Francisco Giant Barry Bonds was so inspired by Chris' urging him to return to baseball after finishing surgery, that he did in fact make his return to the Major Leagues, and was one of the special guests who honored Chris at the 4,000th Wish Celebration at SBC Park. Chris is now about to enter his junior year in high school, where he is in the Honor Society and captain of the varsity golf team.
Four years cancer free, Chris is still an avid baseball fan and will be joining Make-A-Wish Greater Bay Area's youth board in the fall. Say his parents, David and Margie, about his wish, "To see our son as happy as he was made our dream come true; watching him experience magical moments, amongst the hardest time in his young life made us so thankful for his wish."
Every once in a while, a wish child is so motivated to help others, that he or she will use their wish to give back. That is what David Godfrey from San Jose, our 5,000th wish recipient, did for his wish in 2009. The 14 year old leukemia sufferer loved to research renewable energy and create science projects that he hoped would help affect the environment.
For his wish, David went on an "environmental sojourn" that included a ride in a plug-in hybrid electric vehicle and a meeting with the former Lawrence Berkeley Lab Director and now U.S. Secretary of Energy, Steven Chu, among other things. Now a 17 year old high school junior, David served on the Make-A-Wish youth board and would like to study mechanical or materials engineering in college.
About Make-A-Wish® Greater Bay Area:
Make-A-Wish Greater Bay Area grants the wishes of children with life-threatening medical conditions to enrich the human experience with hope, strength and joy. In 2011 the Foundation embarks on 28 years of fulfilling magical wishes. During its first year of operation, in 1984, the Foundation granted 27 wishes. Now one of the largest chapters nationwide, the Greater Bay Area chapter grants over 300 wishes per year and has granted 6,000 wishes to date. The chapter covers 17 Northern California counties: Alameda, Contra Costa, Del Norte, Humboldt, Lake, Mendocino, Napa, Marin, Monterey, San Benito, San Francisco, San Mateo, Santa Cruz, Santa Clara, Siskiyou, Solano and Sonoma. The goal of the Foundation is to grant a wish to every eligible child in its territory.