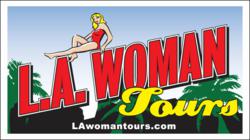 Finally--tours that celebrate L.A.'s most notable figures and landmarks!
Los Angeles, CA (PRWEB) June 27, 2012
These are not your typical "map to the stars homes" tours! L.A. Woman Tours, a company devoted to the celebration, preservation and history of Los Angeles and its notable residents launches next month with two tours: Marilyn's Hollywood and Strange Days: A Journey Through The Doors Los Angeles. Both tours are designed to educate guests about the lives, careers, adventures and passions of Marilyn Monroe and The Doors.
Both Marilyn Monroe and The Doors are unique to Los Angeles history. They are not only from the city, they are of the city—Los Angeles inspired them and is closely associated with their identities. Marilyn Monroe was one of the first major Hollywood film stars who was born in Los Angeles. August 5, 2012 marks the 50th anniversary of her untimely death at 36. (NOTE: As a courtesy, a calendar of events to mark the 50th anniversary is attached.)
How did a little girl who once lived in an orphanage grow up to be one of the most famous and glamorous movie actresses in the world? Marilyn's Hollywood examines the star's life from the early years and explores what inspired her, how she built her career and how she established herself as a leading lady with a devoted fan base but also a savvy business woman who fought the studio system in an effort to better her career. Marilyn's rise to fame represents the quintessential American rags to riches story; she has come to symbolize Hollywood and the movie industry itself.
The Doors emerged during a once in a lifetime music scene in 1960s Los Angeles. During a burst of creative musical energy that's never been duplicated, the Sunset Strip became the epicenter of everything hip. Even in an atmosphere that was considered "freaky" by the establishment, The Doors stood out and sounded different.
Founded by two UCLA film school graduates who loved literature and poetry, The Doors' lyrics and music were like no one else. Often inspired by the city itself, Los Angeles is practically a fifth member of the band. From the streets of Venice Beach to the clubs of Sunset Blvd., to the motels and bars of West Hollywood, The Doors' story unfolds in Southern California and offers a glimpse into the city during a specific era.
L.A. WOMAN TOURS DEBUTS
Both tours tackle the complex personalities and legendary careers of people who devoted themselves to their work. All were uniquely Angeleno and yet their art remains timeless and transcends location. L.A. Woman Tours host and founder Elisa Jordan is a native Southern Californian, history buff and super fan of Marilyn Monroe and The Doors. In her free time, she likes to visit sites of significance in the Los Angeles area, brush up on local lore, wonder what happened in cool looking buildings, study subjects of all sorts and watch documentaries.
Upcoming L.A. Woman Tours schedule:
"Marilyn's Hollywood":

"Strange Days: A Journey Through 'The Doors' Los Angeles":

For more information on L.A. Woman Tours, please visit http://www.LAWomanTours.com or call (562) 546-2087
Los Angeles-area Events to Mark the 50th Anniversary (August 5, 2012) of Marilyn Monroe's Death
Marilyn's fans from across the globe will gather in Los Angeles to pay their respects and attend events that honor and celebrate her life. If you are a Marilyn fan and want to be a part of the celebration of her extraordinary life, join others at one or more of the following events.
Wed., August 1

Fri., August 3

Sat., August 4
1 20th Century Fox Commissary Luncheon/Tour, 11 a.m.-3 p.m., $75 includes luncheon, outside lot tour and shopping in the Studio Store. Door prizes. Hosted by Immortal Marilyn. There is a strict dress code of red, white and/or black in any combination. Check the website for more dress code information. For reservations and information, go to http://www.immortalmarilyn.com/20thCenturyFoxLuncheon.html.
2 Marilyn Forever Blonde Stage Play, 8 p.m., El Portal Theatre in North Hollywood! Starring Sunny Thompson, the play has won numerous awards and is not to be missed! This showing is an Immortal Marilyn group event that includes a Talk Back session with Greg and Sunny Thompson following the play, a champagne reception and more. For information and to purchase tickets, go to http://www.immortalmarilyn.com/MarilynForeverBlonde.html.
Sun., August 5