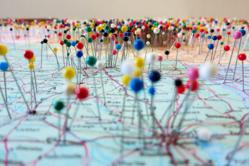 Philadelphia, PA (PRWEB) June 27, 2012
Monday morning, the virtual pin map application uencounter.me released a significant upgrade to its platform, much of which was in direct response to user feedback. Changes include a more directed, step-by-step process for placing pins on maps. New to this process is the ability to place a pin on the map from a GPS enabled photo. By simply uploading the photo when prompted, the application reads the geo-location information and places the pin in the location where the photo was taken. "This is great for travelers and photographers who may not be at a specific address or may not remember which scenic overlook they were standing on," states Leslyn Kantner, one of the Co-Founders. This function adds the photo and pin in one step, simplifying the pin dropping process.
In response to the overwhelming interest from the Genealogy community, the dating segment was revised so that people who use uencounter.me to track ancestry could go hundreds of years back in time and not be required to use a whole date. "Many of our genealogy users only know the year of an historical family event so we eliminated the need for day and month entries," adds Kantner. In addition, "our old dating system only went back to 1900 as we initially thought people would use the maps for current lives and 112 years seemed reasonable." The uencounter.me team experienced a large influx of genealogy users after the release of a 'genealogy pin type' last month and claims that those users were quick to offer feedback on how to tweak the site so that it more 'genealogy friendly'.
"We realize that a virtual pin map has many uses and as we discover the ways in which the public chooses to engage the application, we are happy to generate additions that make sense to the overall platform," offers Kantner. One such user prompted the addition of the option to mark a pin as 'private'. According to Kantner, a uencounter.me user was mapping her Christmas card list with current addresses of friends and family. "We immediately contacted her and asked her to stop until we could make sure to protect the privacy of that information. What's exciting to us," Kantner adds, "is that we have people creating maps for so many different types of reasons. We are continuously amazed at the interest level." Users are mapping groups of all types; church congregations, online friends, social gaming groups, organization memberships and online sales of merchandise.
Kantner explains that this most recent release is only the tip of the iceberg in terms of user friendliness and social interaction. "We are a really small team right now with less than enough hours in any day to accomplish our vision so we do what we can and release it in chunks." Uencounter.me is less than a year old and has experienced a 40% increase in users in only 4 weeks time. "More than one hundred thousand people a month search for something 'pin map' related and we are beginning to capture the attention of many of them," states Kantner.