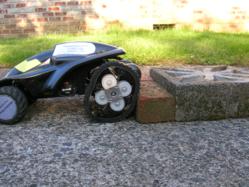 The wheel that goes where others can't
(PRWEB) June 28, 2012
Introducing the Terrain Conforming Wheel (TCW), which utilizes a totally new concept of mobility. This non-pneumatic wheel breaks away from conventional wheel design and standards. It is not a static wheel design as is the case of conventional wheels.
It is a variable design, which conforms to the terrain it envelopes in a uniform fashion.
It has the traction in the range of a track assembly, well beyond that of a wheel! Yet, it is not a track assembly- it does not churn the terrain. It has resistance closer to that of a standard wheel.
Since it conforms to the terrain, it is able to scale objects in its path in a uniform fashion. In fact, its entire rim contributes to conforming to them. The Wheel scales the objects from within, minimizing resistance and jolting.
Ecologically, it is friendly to the terrain it transverses. It does not churn the terrain, as is the case with conventional wheels. Actually, the load bearing mass is not static in relationship to the wheel itself. The weight oscillates between the bearing supports of its spokes.
The full circumference of these Wheels is utilized in gripping the terrain. Thus, in the case of a four-spoke wheel, it takes the shape of a parallelogram. In the case of a six- spoke wheel, it takes the shape of a rounded pyramid.
Initially, these TCWs will focus on lower speed and lower weight applications. Donohue Resilient Wheels, LLC is a market developmental company which will be assigning rights to this new Patent pending technology. See these amazing wheels in action on their web site:
http://www.donohueresilientwheels.com. Do contact them in your quest for markets beyond what was possible before.
E-mail: Admin(at)DonohueResilientWheels(dot)com
Mail: DonohueResilientWheels, LLC
1000 NE 122nd AVENUE #200
Portland, OR. 97230