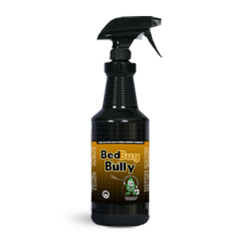 ...the use of the said product[Bed Bug Bully] also makes the fight with the blood-sucking pests safe.
Cincinnati, OH (PRWEB) June 27, 2012
According to the many Bed Bug Bully reviews, the non-toxic solution works. And as a product that went through intensive research and testing, it promises consumers easy bed bug treatment with huge savings.
Nonetheless, Optimal Chemical, the solution's creator, understands the skepticisms that usually surround new products. And so, apart from just promising an effective, safe and low-cost method to kill bed bugs, it's also giving out complimentary samples of the product to back that up.
Basically, Bed Bug Bully is a spray solution. And just like any bed bug spray, it offers a convenient and easy way to eliminate and prevent the re-infestation of the pest. That's because with it, any bed bug sufferer can implement a bed bug treatment anytime, anywhere without much work. All there is to do is to spray the product in the surface or item infested.
But more than just making bed bug elimination easy and quick, the use of the said product also makes the fight with the blood-sucking pests safe. Not like most of the pest-control products, it is pesticide-exempt. It contains no harsh chemicals that are often in conventional pesticides and home cleaning supplies.
Instead of the strong chemicals, the company uses natural ingredients to produce the spray. Thanks to that, evacuation from the area of the treatment after the application of the solution is no longer a requirement. That's because the use of it leaves no residue that could harm health and further pollute the environment.
Discover More About the Non-Toxic Bed Bug Bully
In addition, the absence of chemicals also saves home pieces from complete infestation of the pests without causing more damages. And that prevents more spending for either repair or replacement.
Used to be available only in large pest-control companies, Bed Bug Bully just recently acquired a new licensing agreement. And that means anybody can now have the bed bug exterminators' secret that brings in big profit.
But how does the product help exterminators generate huge income? Well, as it was earlier mentioned, the solution offers big savings. It prevents the repeat of the bed bug treatment as it can get rid of the pests the first time it is applied. That cuts labor cost significantly.
Moreover, as it is non-toxic, the use of Bed Bug Bully gives an exterminator an edge over the other bed bug elimination service providers. The use of natural ingredients imbues the going green concept in the product. That further makes exterminators' bed bug treatment more beneficial and appealing to clients.
Get Rid of Bed Bugs the Green Way. Order Your Bed Bug Bully Today.