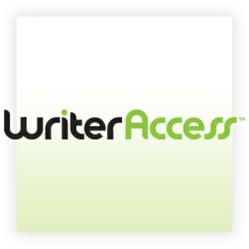 Our goal is to help our clients foster long-term relationships with writers and receive work that is on time and on target without requiring clarifications and revisions.
Boston, MA (PRWEB) June 27, 2012
WriterAccess, the online marketplace where clients and professional writers meet, continues to revolutionize website content services with the addition of a proprietary feature. The company proudly launched Voice Access, which will allow clients and writers to communicate verbally as part of the content creation process. While historically customers were limited to documenting their specifications in writing, they can now communicate directives, goals and instructions with the new technology.
The WriterAccess technology offers customers the option of three types of verbal communication that can be used in conjunction with premium content orders: Voice Instructions, Conference Calls and Group Conference Calls.
Voice Instructions is a call-in feature that allows customers to record their instructions. This is going to be especially helpful for clients who have a difficult time outlining their content specifications in writing. The writer is able to access the client's recording as an attachment on the content order and listen to the instructions to hear what is required of them to complete the project.
Conference Call is a feature that allows a client and a writer to have a phone call about a content order. Instead of communicating textually via message or comments on the order, the writer and client can speak to each other, ask questions and clarify goals and requirements. Clients can select a writer from their Love List and negotiate a time to talk. Each party gets a PIN to enter and the call is automatically recorded and made available in the customer's file library. The file is also sent to the writer so both sides have easy access to the recording for future reference.
Group Conference Call gives customers the ability to set up a call with many colleagues and writers on the phone. The customer can access the feature via Voice Access from the dashboard and distribute the guest PIN to all parties who need to be on the call. The feature easily accommodates teams of writers and customers with multi-user accounts to discuss large or on-going content projects. Up to 30 people can participate in a Group Conference Call.
"Clients rely on our writers and our easy order process," said WriterAccess founder Byron White. "This new technology makes placing orders even easier and far more personal. Our goal is to help our clients foster long-term relationships with writers and receive work that is on time and on target without requiring clarifications and revisions."
"Some clients have a hard time articulating their content goals in writing," says Mia Coen, Content Strategist at WriterAccess. "By giving them the ability to have a conversation with the writer, we're making the content development process much easier for both parties."
Voice Access is a first-of-its kind service that affords a high level of clarity and direction to writers who appreciate any insights clients bring to the creative process.
WriterAccess is an online marketplace connecting customers directly with expert writers. It's a Platform-as-a-Service developed by ideaLaunch, a leading provider of content marketing services and solutions. The company's mission is to streamline content creation with great writers and editors that all have the passion, expertise and experience needed to help grow a business organically—the content marketing way. Further information is available at http://www.WriterAccess.com or 617-227-8800.