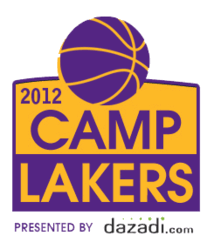 It's always such an honor to be able to team up with the Lakers in presenting a camp for kids that encourages fun and competitive basketball ... " says Elan Klaristenfeld, Co-Founder and EVP of Sales
Los Angeles, Ca (PRWEB) June 27, 2012
Dazadi.com and the Los Angeles Lakers will be partnering for a seventh consecutive year to conduct "Camp Lakers", a youth basketball day camp for boys and girls ages 9-18. The camp, which is to be held at the Roybal Learning Center in Los Angeles will include world-class instruction from current Lakers staff and players, and will offer two sessions, June 25th – June 28th and July 2nd – July 5th. Camp Lakers strives to provide young players with a program that improves their overall basketball skills in a fun and challenging environment. Camp leaders stress the importance of hard work, dedication, teamwork, and sportsmanship both on and off the court. Camp Lakers is designed to unite players of all skill levels and abilities in an atmosphere that promotes learning through a positive coaching environment.
Dazadi.com, a Los Angeles based e-commerce company, began as a company selling basketball hoops and equipment and now sells home recreational products in the following categories; Sports & Fitness, Arcade Games, Game Rooms, Toys & Games, Backyard & Patio, and NBA Licensed products.
"It's always such an honor to be able to team up with the Lakers in presenting a camp for kids that encourages fun and competitive basketball, and doing so in a positive learning and role model environment," says Elan Klaristenfeld, Co-Founder and EVP of Sales & Marketing. "At Dazadi.com we believe in hard work and dedication, while encouraging exciting and lasting memories with family and friends. Camp Lakers really appeals to that ethos as well, and is always an important part of the summer for everyone involved."
###
Founded in May of 2002 by four brothers, Dazadi.com is a specialized online retailer of home recreational products. Dazadi.com sells over 10,000 unique items for the home including game room equipment (pool tables, air hockey tables , foosball tables), home gym equipment (treadmills, stair climber machines , smith machines, yoga equipment), patio furniture, board games, bicycles, basketball hoops and other home recreational products. Dazadi.com constantly strives to live up to its tagline, "The Home of Awesome," by carrying only curated, hand picked, awesome products.
The Roybal Learning Center is located at 1200 W. Colton St., in Downtown Los Angeles and features 11 full indoor and outdoor courts on a campus that is less than four years old.