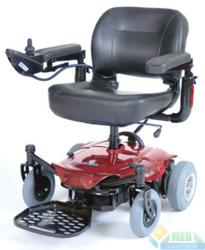 Our lineup of power wheelchairs ensure that our customers lead a complete and effective life, offering an unrivaled stage of mobility at prices that is still accessible.
New York, NY (PRWEB) June 27, 2012
Home medical supply MedSupplyShop store, located on the internet at MedSupplyShop.com, recently announced the expansion of it's inventory of power wheelchairs, overbed tables and other items designed to assist patients who require mobility assistance. Moreover to its line of walkers, manual wheelchairs, rollators and other mobility aids. The new choices includes 18 unique power wheelchair as well as 17 different models of tables and is committed to provide patients having difficulties to move quickly throughout the day.
"For many patients living with a incapacity or injury, the difficulty of moving may be emblematic of a loss of independence in their individual lives. Fortunately MedSupplyShop offers a large variety of items that can give patients a new stage, providing with independence. Our lineup of power wheelchairs ensure that our customers lead a complete and effective life, offering an unrivaled stage of mobility at prices that is still accessible. In addition we carry a large variety of overbed tables, many of them wheeled and can be shifted quickly to offer assistance in different places of the house, as well, our extended stock of wheelchair accessories is sure to assist patients in finding solutions to their decreased mobility with a new stage of availability," David Winzelberg, CEO of home medical supply company.
One of the more affordable power wheelchairs currently available through the website of medsupplyshop.com is the Cobalt X23 power wheelchair, manufactured by Drive Medical, a leading brand, and is available on the website for only $ 1,218.99. Available in base colors of cherry or bright blue, the style full-size offers performance in a wheelchair that is lightweight and compact. With a variety of personalization alternatives available to patients, the wheelchair has four seat height adjustments, has cushioned arm pads that can be eliminated when needed, elevated leg rests developed for high user comfort, and resilient tires that do not go flat. For added flexibility, the motor assemblies allow a simple function freewheel, which allows patients to be pushed.
Another popular style in the MedSupplyShop choice of power wheelchair is the Trident Front-wheel power wheelchair, also produced by Drive Medical. The resilient and reliable style comes with adaptable size, size and position alternatives, and the full-length chair back can also semi-recline for comfort. As MedSupplyShop increases connections directly with medical manufacturers, power wheelchairs are more affordable than in many other shops, this particular style is now available for only $ 1,373.99.
In addition to the choice of power motorized wheelchair, MedSupplyShop is also marketing its stock of overbed tables that can be placed above the mattresses, seats, couches, and other places to allow practical participation in cuisine, hobbies, and other activities. One option for house assistance is Overbed Table # 3037 created by Probasics now available to buyers for just $ 54.99. Complete with a 30 "wood grain laminated top, size modification from 27" to 42 ", and mobility on wheels, this overbed table is ideal for patients seeking care at home.
To view the choice of retail store home medical supply power wheelchair and overbed tables, visit us on the internet at MedSupplyShop.com, or get more information by contacting 877-633-9324. MedSupplyShop also mantains effective social marketing at twitter.com/MedSupplyShop and facebook.com/MedSupplyShop.