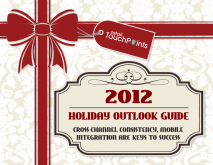 "The buzzwords for the holidays are similar to what retailers are hearing year-round in today's marketplace: customer service, cloud, cross-channel, social and mobile, said Debbie Hauss, Editor-in-Chief of Retail TouchPoints.
Hasbrouck Heights, NJ (PRWEB) June 27, 2012
The holidays may be months away, but smart retailers are strategizing today, according to Retail TouchPoints (RTP), the industry's go-to source for customer engagement strategies, in the 2012 Holiday Outlook Guide released on June 26.
"The buzzwords for the holidays are similar to what retailers are hearing year-round in today's marketplace: customer service, cloud, cross-channel, social and mobile, said Debbie Hauss, Editor-in-Chief of Retail TouchPoints. "But how these tactics are implemented as part of holiday strategies can make or break the season for many merchants."
A number of top industry analysts and retail executives shared their insights for this year's Holiday Outlook Guide, including Paula Rosenblum from Retail Systems Research (RSR), Greg Buzek from IHL Group and Gary Schwartz from Impact Mobile. Some of the topics covered in the Guide include:
MOBILE TECHNOLOGY
Consumers have put the pressure on retailers to prepare for the mobile
revolution. Impressive results from last year's holiday season are motivating retailers to strengthen their mobile strategies in 2012. On Christmas Day 2011, for example, consumers increased mobile shopping by 173% over the previous year, according to the study titled: Google Post Holiday 2011 Takeaways. Additionally, 12% of online visits to a retailer's web site came from a mobile device during the 2011 holidays, a 5% year-over-year increase.
CROSS-CHANNEL MERCHANDISING
HauteLook's 2011 holiday success hinged on multiple strategies across channels to boost basket size and optimize loyalty initiatives. Greg Bettinelli, CMO for HauteLook, shared further insight on the must-haves for this holiday season and beyond, as well as some best practices for e-Commerce, mobile and more. His recommendations are: 1) Keep it simple; 2) Develop consistent branding; 3) Mobilize, mobilize, mobilize; and 4) Stabilize the site.
SOCIAL MEDIA
The fast-moving social media environment also will take retailers for a ride during the holidays. "Given how quickly social media has been adopted, how many channels are popping up, seemingly daily, we believe the opportunities for retailers will increase this year, along with the competition for consumers' attention," noted Michelle Crames, Founder and CEO, SkuLoop.
RETAIL IN AN ELECTION YEAR
In a presidential election year, holiday revenue is affected by the campaigns and the outcome. "I expect holiday sales to be up 3% to 4%," noted Greg Buzek president of IHL group. "But it will likely be the higher level if Romney wins the general election, the lower if Obama wins. An interesting component to all of this is what happens during the lame duck session of Congress. There are a lot of huge tax components that expire at the end of 2012 and will likely not be dealt with until the elections. The expiration of the Bush Tax cuts will have a big impact on spending; the lack of long-term AMT tax will also have an effect. This could go either way based on what happens in early November."
RETAILERS TO WATCH
Industry experts are predicting some of the traditionally popular retailers, such as Nordstrom, will perform well again in the 2012 holiday season, but they also are watching some innovative moves from other retailers. "I'm pretty bullish on Nordstrom at the moment," noted Paula Rosenblum, Analyst Partner, RSR. "The company resisted any urges to start promoting the holidays before Thanksgiving, and has been very good at managing inventory, while recording great same store sales and earnings."
Asked for one important piece of advice for retailers, Rosenblum said: "Don't make
promises you can't keep. If your web site tells the consumer the product is in-stock
in the store, or doesn't explicitly say it isn't, then the product better be there."
There's much more in the full report. For a complete view, please click here, or contact Debbie Hauss, Debbie@retailtouchpoints.com, for interview opportunities.
About Retail TouchPoints
Retail TouchPoints is an online publishing network for retail executives, with content focused on optimizing the customer experience across all channels. The Retail TouchPoints network is comprised of a weekly newsletter, category-specific blogs, special reports, web seminars, exclusive benchmark research, and a content-rich web site featuring daily news updates and multi-media interviews at http://www.retailtouchpoints.com. The Retail TouchPoints team also interacts with social media communities via Facebook, Twitter and LinkedIn.