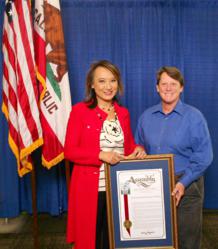 Lt. Colonel Hudson is an outstanding role model, defending freedom in five deployments and providing leadership on many levels throughout her service to our country --Assemblymember Mary Hayashi
Sacramento, CA (PRWEB) June 27, 2012
Assemblymember Mary Hayashi (D-Hayward) has selected Lieutenant Colonel Victoria A. Hudson as her Veteran of the Year for 2012. The author and Hayward resident will be recognized today at the California State Legislature's Fifth Annual Veterans Recognition Luncheon.
"Lt. Colonel Hudson is an outstanding role model, defending freedom in five deployments and providing leadership on many levels throughout her service to our country," stated Assemblymember Mary Hayashi. "She has been an outspoken and courageous veteran who has taken her wealth of experience and shared it as an award-winning author and advocate for civil rights. I'm proud to recognize her as the Veteran of the Year for the 18th Assembly District."
Lieutenant Colonel Victoria Hudson has dedicated her career to serving in our armed forces.
From her early days with the Army ROTC program of the University of Central Florida to her Command of the 304th Information Operations Battalion at Camp Parks in Dublin, she has demonstrated the utmost commitment to excellence and an unmatched dedication to her community.
Lt. Colonel Hudson served in Operation Desert Storm and Desert Shield, Operation Joint Endeavor, led a United States Army Corps of Engineers Infrastructure Assessment Team after 9/11, and served with the United States Transportation Command, Force Protection Directorate as a Joint Anti-terrorism Officer. Her fifth deployment was in 2005 for Operation Iraqi Freedom.
Among her many leadership roles, Lt. Colonel Hudson served as Military Police Platoon Leader and Military Intelligence CEWI Company Executive Officer and Commander for the Army Reserve Troop Program Unit; an Instructor and Small Group Leader at the United States Army Military Police School; a Dislocated Civilians Team Chief assigned to a Civil Affairs Battalion in the Army Reserve; and the 724th Military Police Battalion Commander in Fort Lauderdale, Florida for the Army Reserve.
Lt. Colonel Hudson is a qualified Military Police, Civil Affairs and Information Operations Officer; a graduate of the Army's Combined Services Staff College, the Command and General Staff Officers Course, the Advance Joint Professional Military Education Course and is currently enrolled in the U.S. Air Force Air War College.
Along with her work in the Army Reserve, Lt. Colonel Hudson is an author and freelance writer with a Master of Fine Arts in nonfiction from Saint Mary's College. Her most recent book, No
-cont-
Red Pen: Writers, Writing Groups & Critique is a 2012 Global Ebook award nominee in nonfiction. She was a 2007 Lambda Literary Emerging Writer Fellow and in 2012, she received the Barry Winchell Courage Award in concert with other plaintiffs challenging the Defense of Marriage Act.
Each year, the California State Legislature hosts the Veterans Recognition Luncheon to honor inspiring veterans from across the state. Members of the State Assembly are invited to select a veteran from their district who has made outstanding contributions to their community.
Assemblymember Hayashi is the Chair of the Business, Professions, and Consumer Protection Committee and serves the 18th Assembly District, which includes San Leandro, Hayward, Dublin, most of Castro Valley and Pleasanton, and a portion of Oakland, as well as the unincorporated areas of Ashland, Cherryland, San Lorenzo and Sunol.