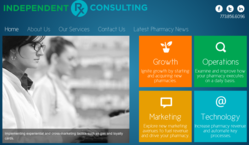 Chicago, Illinois (PRWEB) June 28, 2012
Independent Rx Consulting and OurHelix, a Chicago-based digital company team up to fill a void in the independent pharmacy industry.
The independent pharmacy industry has been changing and changing quickly over the last decade. Many larger chains were and are buying the smaller independent pharmacies that struggle to occupy Main Street America.
Within this independent pharmacy market there has been a void of resources available to owners who don't want to sell and would rather focus on growing their business, but need new ideas with fresh and experienced perspective. There has also been a void in resources available for owners who do want to sell, however need unbiased and experienced advice on preparing their business for a sale, and coaching through the negotiation process, with legitimate perspective on fair market value.
Current pharmacy owners and entrepreneurs, Tim Clark and Owen Bon Durant recognized that void and didn't see anyone doing a really great job as a first-hand experienced resource to the independent market. With over 100 years of experience and generations of family as owners themselves, they want to pay what they've learned forward. Teaming up with OurHelix, a Chicago-based digital agency, they created a brand face and identity for the newly formed Independent Rx Consulting. Using the OurHelix platform, Independent Rx Consultants can control their digital world including site management, mobile management, social media, analytics, SEO and how to manage conversations with prospects and existing customers.
As a new resource for pharmacy owners, Independent Rx Consultants is built on first-hand knowledge and hands-on practical experience. As industry respected leadership, Clark and BonDurant, have worked from the ground-floor up within their own pharmacies, negotiated the sale of many of their own stores and learned from trial and error, thus offering a distinct advantage over many other consulting firms.
Independent RX Consulting provides three types of consulting services including assisting owners to prepare their pharmacy for sale, helping owners grow their business and making owners more money through increased profits.
Many of North America's largest pharmacy distributors and leading healthcare providers also support the independent community. The general feeling is that with the aging baby boomer population, there will be an increased demand for pharmaceuticals at all levels within manufacturing, distribution and retail.
The time is right for independent owners to put their stake in the ground and determine the course that is right for them, then make it happen. Whether it is to commit to growing their business or to prepare it for sale, the question is no longer where to turn for experienced, unbiased support and advice.
OurHelix is a Chicago-based firm that imagines and creates revenue-driving digital experiences for small and medium-sized businesses. From a single control panel businesses can control their digital world including their website presence, social media and mobile marketing with tools for lead generation, customer relationship management (CRM), search engine optimization (SEO) and analytics.
For more information on Independent Rx Consulting please contact:
Owen BonDurant
Owen(dot)BonDurant(at)IndependentRXConsulting(dot)com
312.502.1089
http://www.IndependentRxConsulting.com
For more information on OurHelix please contact:
Amy Nedoss
Amy(dot)Nedoss(at)OurHelix(dot)com
312.577.6954 Ext. 707
http://www.OurHelix.com