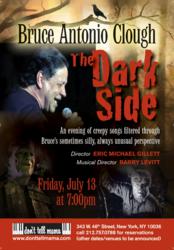 Musical Director Barry Levitt says of "The Dark Side": "'The Dark Side' is not only off the beaten cabaret path, it treads a completely new path."
(PRWEB) June 28, 2012
Veteran performer Bruce Antonio Clough has joined forces with legendary cabaret artist Eric Michael Gillett and renowned jazz pianist Barry Levitt in a cabaret revue exploring "The Dark Side", opening at Don't Tell Mama, Friday the 13th of July at 7pm.
"The Dark Side" reflects Mr. Clough's obsession with horror. The show's dark theme is drawn from the most unsavory characters featured in theatre, film, cartoons, top 40 songs and dark places unknown. A compilation of shady, sinister, menacing and, at times, comedic songs explores murder, witches' spells, beasts, poisoning, stalking and the like.
The show's Director, Eric Michael Gillett, says of "The Dark Side": "Bruce came to me with a very clear vision of what he wanted, a terrific song list and an amazing repertoire of skills with which to pull it off."
Musical Director Barry Levitt seconds that with: "'The Dark Side' is not only off the beaten cabaret path, it treads a completely new path."
Mr. Clough, an award-winning theatre actor and director, honed his acting skills under the great acting teacher Uta Hagen. His voice has been described as "raspy, sexy, with a tremendous range and soul," and reviewers have described him in performance as "a wonderful story teller with a complete and total connection to the lyrics . . . he supplies excellent timing and a devastating delivery . . . a sophisticated actor and a wonderful singer . . . he has considerable range with uncanny precision, making the frequent shifts of emotion, from fury to laughter to tears, believable." With his growly voice, fine-tuned acting skills and 6'2", 210-pound stature, Mr. Clough presents an imposing figure on stage.
Director Eric Michael Gillett has won multiple awards as a cabaret director and performer. He has been seen on Broadway in the original casts of Kiss Me, Kate and Sweet Smell of Success, and also in the New York City Opera productions of Cinderella, The Pirates of Penzance, and Candide. The 2008 MAC Award Winner for Outstanding Director, he has directed a distinguished roster of concert and cabaret talent including Karen Akers, KT Sullivan and the current star of Broadway's Jersey Boys, Jarrod Spector.
Barry Levitt, an award-winning pianist, musical director, composer, conductor and producer, has been an active and forceful presence within the New York musical community for over three decades. He has served as music director and arranger for Broadway and off-Broadway shows, and music director, pianist and arranger for numerous night club and cabaret artists such as Ben Vereen, Bernadette Peters, Eartha Kitt, Rosemary Clooney, Jack Jones, Billy Eckstein and Marilyn Michaels.
"The Dark Side" is an original, imaginative and creative gem of a show. Expect to be enthralled with Mr. Clough's uncanny and eerie characterizations but also expect to laugh as well. If you dare!
Tickets for "The Dark Side" can be purchased at http://www.donttellmamanyc.com. Cover charge is $13 and a two-drink minimum per person. (Special ticket pricing available for MAC and Cabaret Hotline members.) For additional information, visit http://www.bruceclough.com, or email bruceclough1953@yahoo.com.