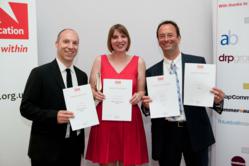 "Financial Management is one of our flagship B2B publications and this award is also testament to the hard work of the team that makes it one of the most effective communication tools of any global institution."
Peter Dean, Seven
London (PRWEB UK) 27 June 2012
Simon Campbell, an Art Director at award-winning content marketing agency Seven, has won the Institute of Internal Communications (IoIC) ICon award for Best Designer at this year's IoIC Awards, held on Friday 15 June at the Hilton Park Lane, London. Simon was selected for his outstanding creative work on CIMA's Financial Management magazine this year.
Seven also received three IoIC Awards of Excellence on the night: Best agency, Most innovative use of media for Medtronic's innovative sales app and Best designer for Rebecca Bramwell (Your M&S).
It's not the first time Campbell has been shortlisted for Best Designer, thanks to his creative expertise. He has been nominated for more than 15 different design awards during his time at Seven. These include: PPA Awards – Designer of the Year in 2012 and 2010 (Business Media) and the BSME Awards (BSME Art Director of the Year 2011 and 2009) for his outstanding work on Financial Management magazine.
Financial Management magazine, the premier journal for management accountants worldwide, is distributed to more than 195,000 members of the Chartered Institute of Management Accountants in 176 countries.
Seven's brief was to reposition CIMA's member magazine as a modern, mainstream global business title, creating an identity to reflect that. The magazine also needed to be distinct from CIMA's own brand, look at home alongside their vast range of company literature but also stand its ground against the many newsstand business magazine and newspapers its members read.
Simon's fresh creative approach has been key in achieving this. As content is centred around in-depth, and sometimes dry, financial information, visual solutions are essential, so to offset the text-heavy nature of business content, Simon developed a unique, image-led philosophy.
A visual-heavy template was developed that allowed speedy design but gave the pages individuality and flexibility. Rigorous, appealing typography and grid structure helped create a magazine that is produced to tight deadlines, while allowing for dynamic, attractive and engaging layouts.
Peter Dean, Seven's editorial director says: "Simon is one of our top designers and it is a credit to his hard work and creative skill that he has been recognised this year. Financial Management is one of our flagship B2B publications and this award is also testament to the hard work of both the editor and the wider team that makes it one of the most effective communication tools of any global institution."
Celebrating the best in internal communications for 60 years, the IoIC Awards reflect the growing complexity and rapid changes in the work being done by internal communicators.
Seven is a regular winner at the IoIC Awards. It has been recognised in several categories for its B2B work, including Impact (SOCA); The Job (The Met Police); A Journal of Interest (Coutts), 20/20 (HMRC), Landscape (Defra) and Your M&S (M&S).
Notes to editors
Contact at Seven:
Shareena Ali
PR
Seven
3-7 Herbal Hill
London
EC1R 5JF
Tel: 020 7775 5549
Email: shareena.ali (at) seven.co.uk
About Seven

Seven is an award-winning, multi-platform content marketing agency.
Expert in creating intelligent, relevant and effective content across multiple channels, including magazines, websites, social media, interactive e-zines, video, iPhone and iPad apps.
Clients of Seven include Aviva, Sainsbury's, CIMA, Grant Thornton, Guardian Media Group, Lloyds Banking Group, New Look and English Heritage.
For further information, find us at http://www.seven.co.uk or contact Shareena Ali, PR, Shareena.ali (at) seven.co.uk 020 7775 5549