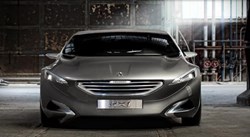 The striking 208 GTi Concept and the HX1 Concept car are both being showcased for the first time in the UK at the festival, starting tomorrow, June 28
(PRWEB UK) 28 June 2012
French car manufacturer Peugeot is displaying two impressive Concept cars at this year's Goodwood Festival of Speed (http://www.peugeot.co.uk/goodwood-festival-of-speed/).
The striking 208 GTi Concept and the HX1 Concept car are both being showcased for the first time in the UK at the festival, starting tomorrow, June 28.
Peugeot – a key sponsor of the Goodwood Festival of Speed – is planning a spectacle for this year's event, including displays of its most recent products, and performances from the 208 Let Your Body Drive dancers.
But it will be the 208 that takes centre-stage as Peugeot drives forward its marque regeneration.
The new 208 is a stylish model – a smaller, lighter take on the iconic 207, with improved interior space and striking design features.
The 208 boasts very low CO2 emissions, with a choice of both diesel and petrol engines. The new range of Peugeot 208 cars will be available in the UK this summer.
Also on display at this year's Goodwood Festival of Speed will be Peugeot's HX1 Concept car – a luxury, limousine-flavoured design marrying stunning aerodynamic design with practical, passenger features.
The car can adapt to seat four, five or six people, features a powerful diesel-hybrid engine, futuristic reverse-opening 'half-scissor' doors and an adjustable steering wheel.
In 2010, Peugeot used the Goodwood Festival of Speed to celebrate its 200th anniversary, unveiling the RCZ Sports Coupé and debuting the 100% electric iOn. In 2011, the EX1 electric Concept car stunned onlookers with its incredible acceleration.
This year, Peugeot is inviting visitors to experience the Motion & Emotion associated with its vehicles, through the new 208, industry-leading hybrids like the 508 RXH and 3008 Hybrid4, and the spectacle of the 208 Let Your Body Drive stand.
The new Peugeot 208 takes its UK debut at the Goodwood Festival of Speed, Goodwood House, from June 28 to July 1.
ENDS
Notes to editors:
For more information, please contact: Kevin Jones, Public Relations Manager, Peugeot UK, on +44 (0)2476 884215, or email kevin.jones(at)peugeot(dot)com.
About Peugeot
Peugeot is a corporate sponsor of the Goodwood Festival of Speed. With more than 200 years of history in innovation, design and technology, French car manufacturer Peugeot invokes Motion & Emotion with its vehicles. Popular models, such as the 107, 207, and 3008, offer an unforgettable driving experience with a raft of specification options. Peugeot also creates industry-leading low CO2 green cars, like the 100% electric Peugeot iOn, and diesel –electric hybrids like the 3008 HYBrid4.
About Goodwood Festival of Speed
The Goodwood Festival of Speed is an annual UK event, and represents one of the world's biggest celebrations of motoring. The festival was launched by the Earl of March in 1993, and has grown from a modest 25,000 visitors at the inaugural event, to 150,000 this year. The festival features stunning supercars and Formula One drivers, steam-powered forebears and vintage vehicles. Visitors can see the latest models from top car manufacturers – featuring state of the art technology and cutting-edge design – and enjoy entertainment, including music, car challenges, races and air displays. This year's event runs from June 28 to July 1 at Goodwood House, Chichester, West Sussex. Tickets must be bought in advance.