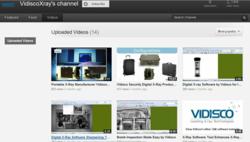 Each component of every Vidisco Digital Radiography system has been carefully designed to meet the specific needs of NDT and Security operators in all sorts of conditions, from rugged terrain to sub-zero temperatures.
(PRWEB) June 28, 2012
Vidisco recently revamped its website, adding scores of digital X-ray images and external pictures, while restructuring to make the website as user friendly as possible. The website now offers an array of video clips about a wide range of topics related to the company's advanced portable digital X-ray systems. The company has its own You Tube channel featuring all of the new clips.
As part of Vidisco's ongoing efforts to improve customer satisfaction, the company has created several new videos with helpful tips and tutorials regarding the optimal ways to use the products as well as clear descriptions of Vidisco's entire NDT and Security product line.
One video clip provides a general overview about Vidisco, the world's leading portable digital X-ray designer and manufacturer for over two decades. Another video clip offers an introduction to the company's security related digital X-ray products including its unique 3 a-Si panels, Smart ICU, XR-DE Plus organic detection module and much more. Several other video clips describe the components and accessories of Vidisco's NDT portable X-ray systems, from the Dual Wifi X LR to the company's proprietary XbitPro software.
Another series of video clips provides useful tips on various enhancement tools contained in the company's proprietary XbitPro software in order to produce top-quality X-ray images. The short clips about the Window Leveling Tool, the Sharpening Tool, the Adaptive Histogram Equalization Tool and the Polarity Tool provide a small taste of the software's ability to quickly produce crystal clear X-ray images on site.
Thanks to these explanatory video clips about Vidisco's array of portable digital X-ray systems and software suite, it is now easier than ever to find the digital X-ray system most suited to one's professional NDT or Security needs.
Adar Yiron, Vidisco's VP Marketing, stated: "Vidisco's portable Digital Radiography systems are unique in the field of X-ray. Each component of every system has been carefully designed to meet the specific needs of NDT and Security operators in all sorts of conditions, from rugged terrain to sub-zero temperatures. These new video clips are helping customers to become better acquainted with our advanced systems, accessories and software."
Vidisco Ltd., established in 1988, is a leading worldwide designer and manufacturer of portable Digital Radiography X-ray systems. Vidisco portable inspection systems can be found in over 75 countries around the world, fulfilling a wide range of tasks including various applications in NDT such as small bore pipe inspections in refineries and the petrochemical industry, aerospace testing, welding NDT and shipyards, as well as inspection of artwork and archeological artifacts. In the security field, Vidisco digital industrial radiography systems are used for applications such as bomb detection and disposal, as well as a tool for VIP protection, searches for drug/contraband smuggling, customs, forensics, and more.
To visit Vidisco's video section on the Vidisco website, press here.
For more information, email us at NDT(at)vidisco(dot)com or Security(at)vidisco(dot)com, or contact us through our improved website: http://www.vidisco.com.