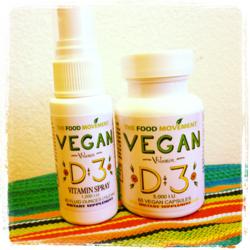 Plant-based Vitamin D-3 is finally here!
Schaumburg, IL (PRWEB) June 29, 2012
Vitamin D is an essential nutrient which is vital for human health in relation to immune function, bone density, hormone metabolism, and other critical areas. When it comes to dietary supplements, there are two forms of Vitamin D available; D-2 (ergocalciferol) and D-3 (cholecalciferol). A growing body of credible scientific research has demonstrated that vitamin D-3 is the superior form of this essential nutrient.
However, until very recently, D-2 (the more poorly absorbed form) was the only form not derived from animal products, and therefore suitable for vegans and strict vegetarians. D-3 was generally available only as an extract from Sheep's wool lanolin. Therefore, vegans and strict vegetarians were only able to consume the moor poorly absorbed D-2 without compromising their dietary ethics.
In light of these facts, The Food Movement is proud to announce the brand new release of their Vegan D-3 product, made with Vitashine (TM) cholecalciferol. Vegan D-3 is derived from a unique species of lichen, a member of the plant kingdom.
Two forms of the product, a 5000 IU vegetarian capsule, and a 1000 IU liquid spray, are being made available to the specialty health food store retail market in the United States. In addition, the products will be distributed through select internet-based e-tailers.
The Food Movement is an Illinois-based natural products company formed with a dual mission; to bring the world superior nutrient-dense plant-based nutrition, and to help end world hunger. To this end, Food Movement donates at least 11% of their profits to various worthy organizations around the globe.